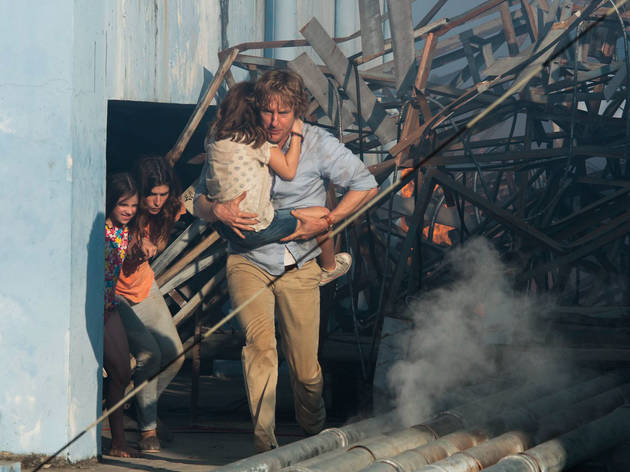 Time Out says
Owen Wilson is Hollywood's most soulful clown, while Lake Bell, the writer, director and star of In a World… (2013), is a fearsomely funny up-and-comer. Those accomplishments aside, one question can't be dodged any longer: Why have they starred as a humourless husband and wife violently fighting for their lives in an unnamed Southeast Asian country roiled by a political coup? A scenario more suited to First Blood-era Sylvester Stallone (never mind Liam Neeson), No Escape is the most miscast action movie since Cindy Crawford grappled with Billy Baldwin in Fair Game.
Jack and Annie Dwyer (Wilson and Bell) plan to make a new life in the Far East, where hopefully this time his unspecified small business will flourish. The sweltering country looks a lot like Cambodia or Laos, but it's never identified (the film was actually shot in Thailand) and for good reason: Almost as soon as the couple lands with its two preteen girls in tow, all hell breaks loose with explosions, point-blank executions and helicopter crashes straight out of Apocalypse Now. Sticking out like a sore thumb, the white family must flee, only steps ahead of the militia. Night falls.
Assembling a thoroughly ugly film for an audience that doesn't care who's shooting whom, horror specialist John Erick Dowdle doesn't think to utilise Wilson's winning insecurities, instead having him heroically fling his daughters from rooftop to rooftop (a nerve-racking bit of parenting), defend Bell from shirt-tearing rapists and bash in multiple skulls. When Pierce Brosnan, as a too-obvious foreign agent who comes to the family's aid, is your film's most realistic element, something's gone askew. No Escape takes pains to pause for some unconvincing speechifying about Western meddling abroad, but its showbiz racism gets an infuriating pass.
Details
Release details
Rated:
NA
Release date:
Thursday November 5 2015
Duration:
103 mins
Cast and crew
Director:
John Erick Dowdle
Screenwriter:
John Erick Dowdle, Drew Dowdle
Cast:
Owen Wilson
Pierce Brosnan
Lake Bell
Sterling Jerins

Users say