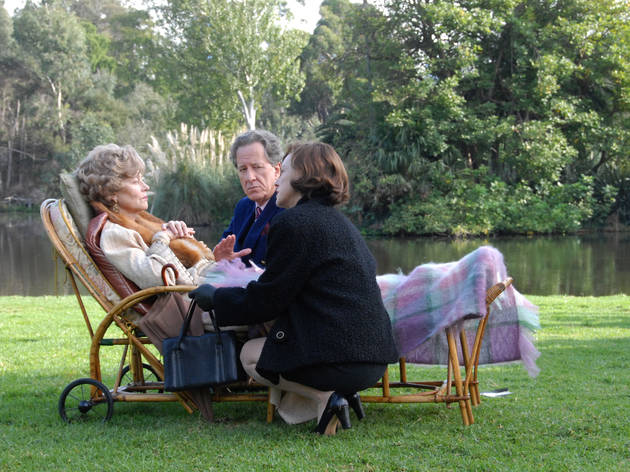 Time Out says
It has been observed that one of the hallmarks of Patrick White's novels is their microscopic focus, which may explain why this adaptation of one of his most well-regarded novels seems to have trouble conveying the complex thoughts and emotions of its three leads.
Set in the early seventies, director Fred Schepisi's film examines the last days of Elizabeth Hunter (Charlotte Rampling), a wealthy matriarch who, while largely confined to her bed, maintains a lavish Sydney mansion with a large staff to keep it running. Informed of her deteriorating condition, her two estranged children return home with potentially mercenary motives. Her daughter Dorothy (Judy Davis) has been left by her husband, a French prince, and finds herself adrift and impecunious. Her son Basil (Geoffrey Rush) is an actor whose most recent rendition of King Lear has been savaged by the critics.
The film's eye has a healthy disdain for the privileged aristocracy- all of the lead characters are disconnected, out-of-touch and deeply flawed whilst the people who serve under them are generous and honest to a fault. There's a striking, Lynchian image early in the film at a party that Dorothy attends on her return to Australia - as various shots of the lavish banquet pass by, one notices a maggot crawling out of one of the fruits on display. It's an effective metaphor, unfortunately used repeatedly throughout the film; by the fourth time a similar image appears it's about as subtle as a mallet.
Technically, the film is excellent, the opening and closing images being particularly powerful. The cast is a veritable showcase of Australia's finest actors, but it's the British Rampling who holds the entire film together as both the elder Hunter but also a younger version of herself as seen in flashbacks. Alexandra Schepisi also impresses as Flora, the young nurse who has a brief fling with Basil.
But in spite of all these elements, they can't escape the trajectory of a story that is largely set within the walls of a single dim room, a series of dreary scenes about lonely and tragic lives. Its examination of dementia is commendably unflinching and cruel, but as a result can be occasionally difficult to watch. These are deep, complex characters, but dramas need some glimmer of change or redemption and there's little to be found here.
Details
Release details
Rated:
MA
Release date:
Thursday September 15 2011
Duration:
114 mins
Cast and crew
Director:
Fred Schepisi
Cast:
Charlotte Rampling
Maria Theodorakis
Geoffrey Rush

Users say