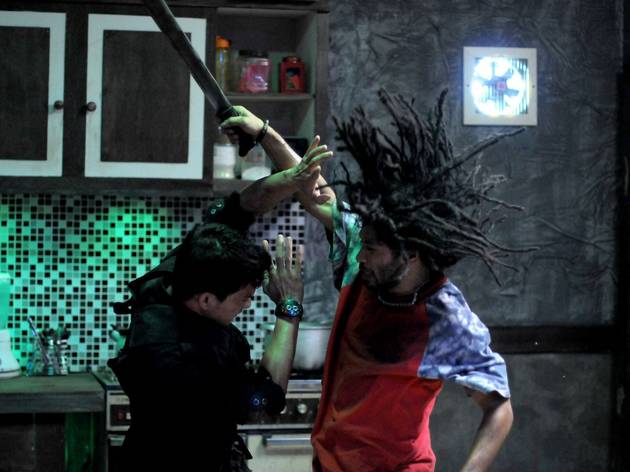 Obi-Wan would recognise this crumbling Jakartan apartment block as a wretched hive of scum and villainy. Too bad the crack team of police commandos that go in to take down a sadistic crime boss (Ray Sahetapy) don't. In the time-tested tradition of Aliens and Southern Comfort, these cocky soldiers are about to get their asses kicked and a bug hunt will turn into a desperate fight for survival.
This is the easy-as-pie premise of The Raid, a martial arts-cum-shoot-'em-up from Welsh-born director Gareth Huw Evans. Evans was making a documentary about an Indonesian form of kung fu called Pencak Silat some years ago when he discovered the star quality of Iko Uwais, and set out to make action films with the 29-year-old Pencak Silat master. The Raid is the second of these and it's an explosive, gory, rocket-paced death-fest.
Uwais is Rama, a cop who's handy with a machine gun but can deal with an endless onslaught of machete-wielding bad guys with his bare hands if need be. Evans directs action with rare genius, killing off these crazed criminals in astonishingly creative ways. The film takes a few shots at ineptitude and corruption in the Javan police but its primary purpose is to provoke involuntary gasps from the audience. The bar has just been raised.
Release details
| | |
| --- | --- |
| Rated: | MA |
| Release date: | Thursday March 22 2012 |
| Duration: | 101 mins |
Cast and crew
Director:
Gareth Evans
Screenwriter:
Gareth Evans
Cast:
Iko Uwais
Ananda George
Ray Sahetapy