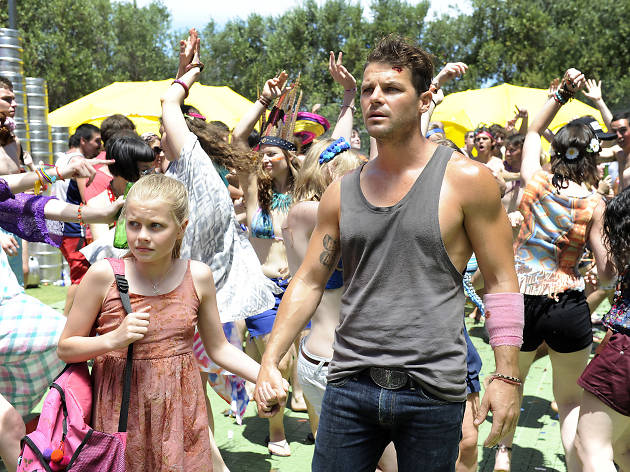 Time Out says
Fun fact: while researching Dr Strangelove, Stanley Kubrick made tentative plans to relocate to Australia, convinced that the Antipodes would be the safest refuge in a nuclear apocalypse. The same belief inspired Neville Shute's novel On the Beach, which became a morose and preachy movie in 1959 with Gregory Peck and Ava Gardner moping around Melbourne waiting for the fallout to drift south.
Australia, specifically Perth, is again the last outpost against global destruction in These Final Hours, although it's a natural doom precipitated by cosmic events rather than human folly. With the northern hemisphere gone and just 12 hours to oblivion – as David Field's messianic radio DJ assures us – James (Nathan Phillips) speeds across town to get to an outdoor bacchanal so he can die happy. The plight of a little girl (Angourie Rice) kidnapped by rapists distracts him. Will he help her escape and find her family, or hook up with one of his two girlfriends for the grand finale?
A technically impressive debut for writer-director Zak Hilditch, These Final Hours sets up a simple redemption tale and convincingly stages mass panic on the sunny streets of Perth. There are few real surprises here, although there's a memorable cameo from Sarah Snook as a partygoer whose despair takes on a creepily maternal dimension, while Daniel Henshall (Snowtown) channels the Dennis Hopper of Apocalypse Now as the crazed master of ceremonies at the pool party to end all pool parties.
Details
Release details
Rated:
MA
Release date:
Thursday July 24 2014
Duration:
87 mins
Cast and crew
Director:
Zak Hilditch
Screenwriter:
Zak Hilditch
Cast:
Sarah Snook
Jessica De Gouw
Nathan Phillips

Users say