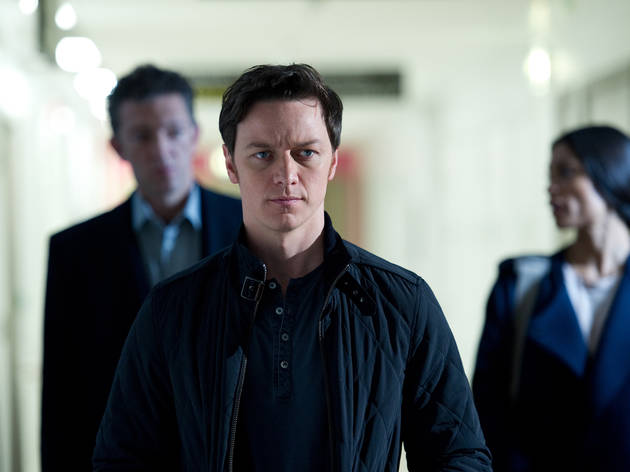 Time Out says
That Danny Boyle directed a film amid preparations for last year's mammoth Olympic opening ceremony is impressive enough; that it's his sleekest outing yet is at least as brain-boggling as Trance imagines itself to be. If Christopher Nolan had much feeling below the waist he could have cooked up this circuitous, psycho-sexy heist thriller, the engagingly silly plot mechanics of which are tricky to describe without giving the game away.
This much you can know: sharp-suited London auctioneer Simon (James McAvoy) is the inside man for art thief Franck (Vincent Cassel). When his planned double-cross during the theft of a prized Goya goes awry, Simon loses all memory of where he's hidden the painting. Enter alluring hypnotherapist Elizabeth (Rosario Dawson), who may or may not know more than she's letting on. Adapted from Joe Ahearne's 2001 TV film, it's essentially Eternal Inception of the Spellbound Mind, though its shallow mind games are strictly disconnected from the heart. Like a jigsaw puzzle of a priceless painting, the fun lies in putting it together, not contemplating the fractured final product.
Still, after Slumdog Millionaire and the stifling 127 Hours, it's a kick to see Boyle back in lickety-split genre mode. Reunited with screenwriter John Hodge, and with a game, sideburned McAvoy as a Ewan McGregor proxy, this is the kind of film he might have made in the '90s, only flashing all the technical elan he's gained since then. Due respect to McAvoy, but it's cinematographer Anthony Dod Mantle and his gorgeous, radioactive vision of London that are the true stars here. It's a different city celebration to the one Boyle directed last summer, but no less enticing.
Details
Release details
Rated:
MA
Release date:
Thursday April 4 2013
Duration:
101 mins
Cast and crew
Director:
Danny Boyle
Screenwriter:
John Hodge, Joe Ahearne
Cast:
James McAvoy
Rosario Dawson
Vincent Cassel

Users say