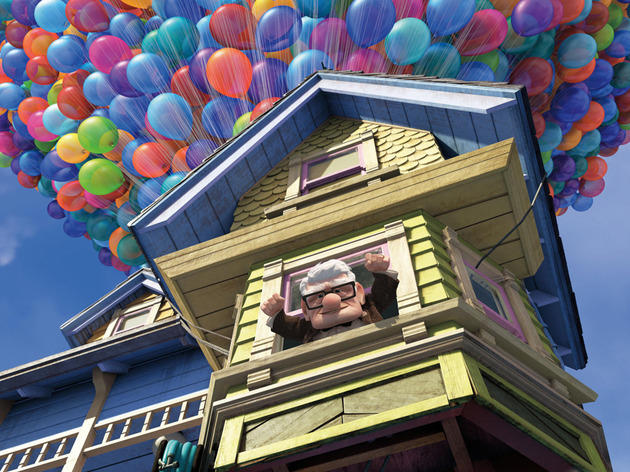 Time Out says
Pixar's animated marvel may not reach the same heights of wonderment as a 'Wall-E' or a 'Ratatouille', but those are tough boots to fill and this short, sharp and sweet fantasy still manages to reaffirm its makers as world leaders in the kind of popular animation that embraces ideas and the real world alongside fun and fantasy. There's just one problem: how do you wipe away a tear while wearing those chunky 3D glasses?

Neither a rat nor a robot, the film's hero is Carl Fredricksen (voiced by Edward Asner), an elderly man of Middle America who as a youth dreamed of becoming an explorer like Amundsen or Scott. Work and family took over, years passed, and now he's a long-faced widower, living in an old-fashioned home right in the middle of a metropolis. White-haired, square-jawed and stout, he looks like a more homely version of an older Norman Mailer. To outsiders he appears a frail grump, but we know he's mourning his wife and – in some ways – his life.

The film is co-directed by Pixar stalwarts Pete Docter and Bob Peterson and – like 'Wall-E' before it – knows the value of silence as well as the need for souped-up action episodes to keep kids awake. As in 'Wall-E', too, the most grown-up stuff comes early: a brilliant, melancholy chapter, free of talk, runs through Carl's life from boyhood to dotage, its triumphs and disappointments: it's a staggeringly effective, sad sequence.

The story begins as the authorities threaten to place Carl in care after he has a scrap with a property developer looking to bulldoze his home. Carl's response to this bureaucratic heavy-handedness is a bugle call to the gods of animation. He ties a thousand balloons to his home and floats off, house and all, to South America to find the waterfalls which he and his wife always dreamed of visiting. But he doesn't bargain on a passenger. In tow is Russell, a podgy child and a wilderness explorer, who wants to help Carl cross a road so that he can win an achievement badge.The balloons are a showcase for modern digital animation as they convincingly float and shimmer; the jungle, too, is a canvas for an explosion of colours and various strange beasts.

There's a touch of 'Fitzcarraldo' as Carl and Russell drag this old man's home through a jungle while fighting off the maniacal ambitions of an even more elderly adventurer who lives in the wilderness. It's not the only element of 'Up' that recalls Herzog's determination to show nature laughing in the face of man. It's a running theme – and gag – throughout. And there's even something of Timothy Treadwell from 'Grizzly Man' about wide-eyed Russell.
So, Pixar triumphs again with a delirious fantasy that has one leg in the human world of hopes dashed and realised, and the other in the cartoon tradition of journeying and adventure. The crisp 3D is never gimmicky and the entire film is blessed with the light and air of bright but never gaudy colours.
Details
Release details
Rated:
PG
Release date:
Thursday September 3 2009
Duration:
96 mins
Cast and crew
Director:
Bob Peterson, Pete Docter
Screenwriter:
Bob Peterson
Users say