1/10
Photograph: Prudence Upton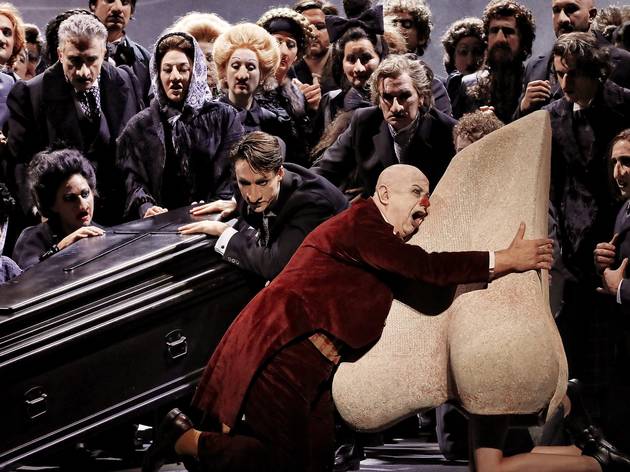 2/10
Photograph: Prudence Upton
3/10
Photograph: Prudence Upton
4/10
Photograph: Prudence Upton
5/10
Photograph: Prudence Upton
6/10
Photograph: Prudence Upton
7/10
Photograph: Prudence Upton
8/10
Photograph: Prudence Upton
9/10
Photograph: Prudence Upton
10/10
Photograph: Prudence Upton
Barrie Kosky returns to Opera Australia after a 19-year hiatus, with his playful take on Shostakovich's absurdist 1930 opera
Yes, the opening night audience were unanimously mesmerised by the tap-dancing chorus line of one-and-a-half-metre noses, surely one of the most eye-grabbing theatrical confections of the prolifically inventive director Barrie Kosky. But many were unsure what to make of the rest of it, where Kosky is largely faithful in his fashion to the music of a young Dmitri Shostakovich and his adaptation of the 1836 short story by Nikolai Gogol, here in a vivid translation by the eminent opera director David Poutney.
The rambling Kafka-on-Xanax plot follows a public servant named Kovalev, sung and acted with dazzling energy by Austrian bass-baritone Martin Winkler. Kovalev's nose escapes him somehow and leaves a trail of disruption through Tsarist St Petersburg, obliging Kovalev to deal with a bewildering range of characters, most poignantly his barber and doctor, played with gravitas by the British bass John Tomlinson (locals Kanen Breen, Jacqueline Dark and Antoinette Halloran prove themselves to be masters of the grotesque). Self-image is threatened when you not only can't see the nose in front of your face, you hear reports that it is up to mischief elsewhere.
Written in 1928 as the Soviet state was descending into its Stalinist dystopia, this was never a feelgood collection of whistlable hits. Despite its underlying classical formality, the music still sounds disturbingly radical and is frequently discordant, in keeping with the slo-mo trainwreck action. Its complexity and variety challenge both listeners and players, though ace conductor Andrea Molino and the Opera Australia Orchestra and chorus deliver it all to the highest standard.
Concentrating on the confronting orchestration isn't always easy in the face of the extraordinary sets (Klaus Grünberg) and costumes (Buki Shiff), and the absurd incidents and scenes, often very beautifully staged but never endearing. Some at opening night resented the phallic Groucho mask and took it as their cue to exit the theatre; others thought it brought out the underlying metaphor elegantly. Audience ratings on the scales of pathos, funniness, taste and artistic merit were as diverse and vocal as a Russian troll farm might produce.
If you think of this production as antivenom for the Disney musical formula of smooth music and soothing plots, it's hardly a surprise that many people won't like it all. But because of its excellence in music, stagecraft and artistic direction, anyone who here considers Kovalev's preposterous predicament with an open mind is likely to come away impressed or possibly overwhelmed, and not just by the dancing noses.