Updated Monday, March 30, 2020
Things are changing rapidly with the state of the coronavirus pandemic and how we go about our day to day in Sydney. So to break things down a little, we've summed up the main things Sydneysiders want to know about how daily life is likely to be affected.
Can I see my friends, or visit my parents?
The new rules announced on March 29 have limited all social gatherings, indoors or outdoors, to no more than two people. The only exception here is households. You and the people you live with can all be in the house at the same time, but you cannot have anyone else over. You and your housemates can all go outside together, but you cannot meet up with anyone from outside your household while you're outside.
If you live alone, technically, you can have one person over. So if you have a parent or loved one who lives alone and you want to check on them, and neither of you are unwell, you can visit within reason. But unfortunately, hugs and kisses are best avoided.
Am I allowed to leave my house?
Only for an essential reason. In a press conference on Sunday, March 29, the prime minister announced that rules have been made stricter. These essential reasons include shopping only for what you need (like groceries and medical supplies), compassionate reasons, work or study (if this can not be done from home), or once daily for fresh air and exercise (with a maximum of one other person). In a media conference this morning, March 30, the NSW Premier Gladys Berejiklian doubled down on this message and announced new enforcement powers for police to issue fines to anyone seen to be breaking physical distancing and gathering restrictions.
Outdoor gyms, playgrounds and skate parks are all closed from today, and outdoor bootcamps have been reduced to two people (previously 10 people were allowed). You can ease your cabin fever with a mindful neighbourhood walk if it is safe to do so, but be conscious of touching your face and things around you as little as possible. Don't have a swing at the playground, and definitely take a pass on the public water bubbler. We're a social bunch, so this may be hard to hear, but 'a walk to the park' isn't an excuse to gather in groups and put on a barbecue.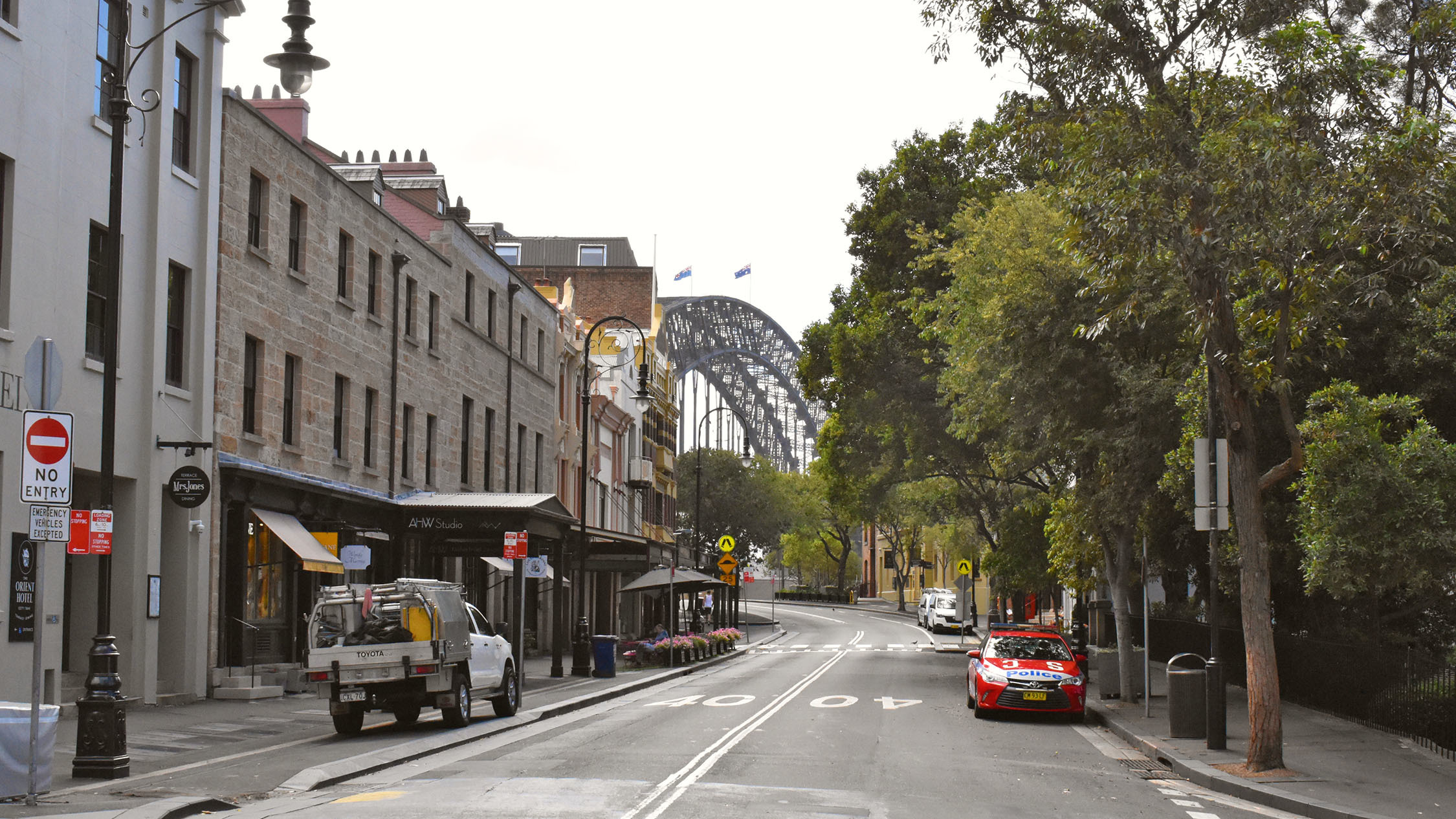 If you have just returned from travel you will be 'forcibly quarantined' in a hotel for 14 days, and if you're exhibiting any signs of ill health or you've actually been diagnosed with Covid-19, no dice, you must stay inside. The government has also urged all people over 70 years old to self isolate, as well as people over 60 with a chronic illness, and Indigenous people over 50.
Are all the shops shutting?
Essential services like supermarkets, pharmacies, convenience stores and petrol stations will remain open. Shopping centres remain open, but food courts are only permitted to sell take away food only. That said, it's not the time for having an idle peruse through your favourite chain boutiques.
Can I eat and drink from my favourite places?
Every establishment from restaurants and cafes, to pubs and bars, are only allowed to serve takeaway as of Monday, March 23.
Some eateries have already closed or reduced trade, but many are offering 'no contact' delivery and services like Deliveroo, Menulog and UberEats are exempt from the ban, so you can still get your fave eats brought to your home. Bottle shops will also remain open, so you can have a tipple on home turf. Some of our best bottle shops are now offering home delivery too. Outdoor and indoor food markets are being assessed on an individual basis, so double check before heading down to your local.
Can I still get a haircut or visit my beauty therapist?
Beauty therapists, nail salons, tattoo parlours, massage parlours (excluding allied health-related services) and the like have all been closed down from midnight on Wednesday, March 25. For the meantime, you can still visit your hairdresser or barber shop, and the previous time limit of 30 minutes has been lifted. If you can't go without keeping your fade fresh, or you've decided this is the time to finally try out a fringe (which you can grow out in isolation once you realise your mistake), make sure you trust that the salon is adhering to strict sanitation rules, and don't go if you're experiencing cough or cold symptoms.
Can I have a party at home?
Absolutely not. You will be fined. The time for virtual hangouts is upon us, Zoom and Google Hangouts are not just for work meetings, or give the Houseparty app a try.
Can I go to the beach?
Many Sydney beaches are now closed to maintain social distancing. Waverley Council has closed off Bondi, Tamarama and Bronte beaches after thousands of people ignored social distancing and packed out Bondi last weekend. Randwick Council has also closed Clovelley, Maroubra and Coogee beaches. Meanwhile, many beaches around the state remain open, with measures in place to limit the number of beachgoers. If you're taking your daily exercise allowance to the sand, check in with the council local to the beach you'd like to visit and keep at least a solid beach towel's length away from other sun-seekers.
Can I leave Sydney?
All travel deemed non-essential, including holidays and avoidable interstate trips, has been advised against. This also comes under the new restrictions that deem you can only leave your house sparingly.
States and territories including Western Australia, South Australia, Tasmania and the Northern Territory have essentially closed their borders, requiring an isolation period of 14 days for all visitors. All overseas travel, with very few exceptions, has been banned.
What about weddings and funerals?
A pandemic does not stop for celebrations of love or commemorations of life, just so long as the social distancing rules and public gathering restrictions apply. Indoor places of worship are not exempt from venue closures either, so many weddings planned within the next six months will probably be postponed. Weddings are only allowed with a total of five people in the room, including the couple, the celebrant and witnesses. As for funerals, a maximum of ten people are allowed. The ABC reports that we're seeing a change to funeral customs, with livestreaming becoming a popular alternative.
How long will this last?
Current reports say that this could be our way of life for about six months. Time In will keep you in the loop with the best ways to keep entertained, support your community and celebrate your city with the best things to do at home.
For the most up to date information on COVID-19 regulations, go to nsw.gov.au or see ABC News.
Need to know more? Check out our top tips and tricks on how to master physical distancing without losing your mind.