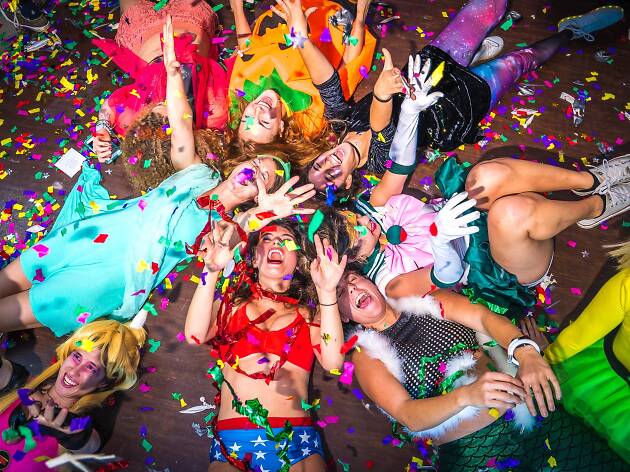 Time Out says
This "one love" sunrise yoga and dance party is happening deep in the Centennial Parklands
Many people turn to yoga for a peaceful, introspective way to start their day with some physical and mental wellness. Some people might lace up their runners for a more intense boot camp session to centre their fitness. You wouldn't normally find yourself careening into a dancefloor straight after your early morning fitness fix – but for self-appointed global phenomenon Daybreaker, starting your day with a sober rave and a fitness fix is what they're all about.
Last year they brought their quirky sunrise events into the Sea Life Sydney Aquarium, the Opera House and the observation deck of the city's tallest building, the Sydney Tower Eye. This time around, Daybreaker is taking things outdoors with a dawn sesh deep in the Centennial Parklands nestled between two ponds and the Park's intricate flat stone Labyrinth. Getting amongst the Mardi Gras spirit, the "One Love" theme of this alfresco daybreak event encourages punters to dress in all the shades of the rainbow.
The event kicks off with your choice of a one-hour yoga sesh or a bootcamp for the more daring from 5.30am, followed by a mass meditation before a big ol' dance party bolstered by DJs, live musical performances and "theatrical elements" to keep party people alert for their morning boogie. Children under twelve can get in on the rainbow rhythms for free, and there'll be (non-alcoholic) breakfast bevvies and nibbles while they last.
Tickets will set you back about $59 for the whole thing inclusive of yoga or bootcamp, or $38 if you just want to rock up for the party. It all wraps up by 8.30am, so CBD office workers can potter off to work in their zany yoga pants with something left-of-centre to brag about around the water cooler (depending on how flexible your workplace's casual Friday policy is).
Details