1/10
Photograph: Anna Kucera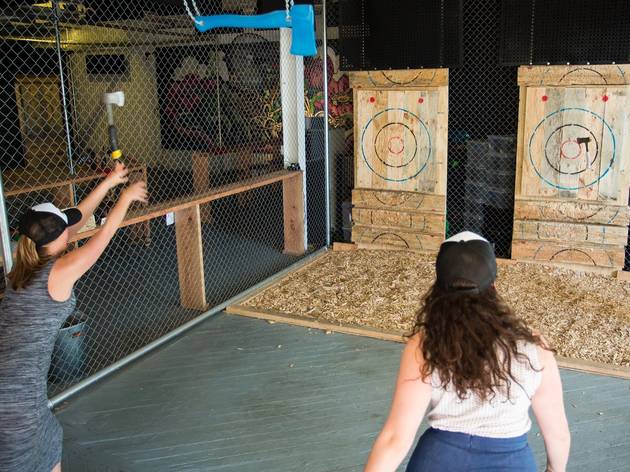 2/10
Photograph: Anna Kucera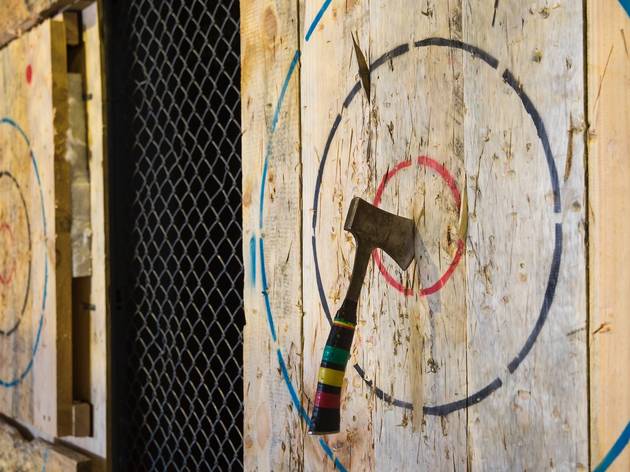 3/10
Photograph: Anna Kucera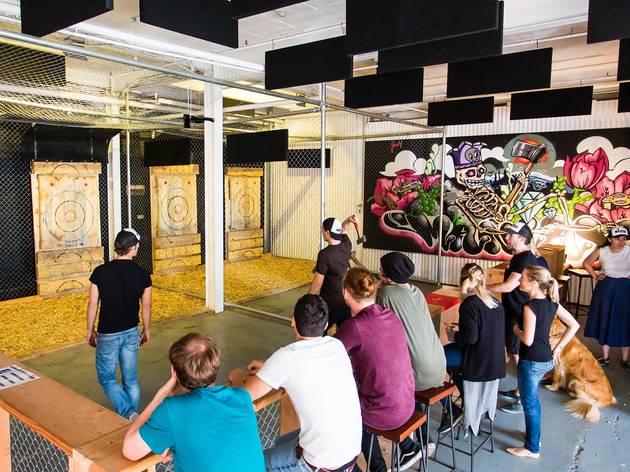 4/10
Photograph: Anna Kucera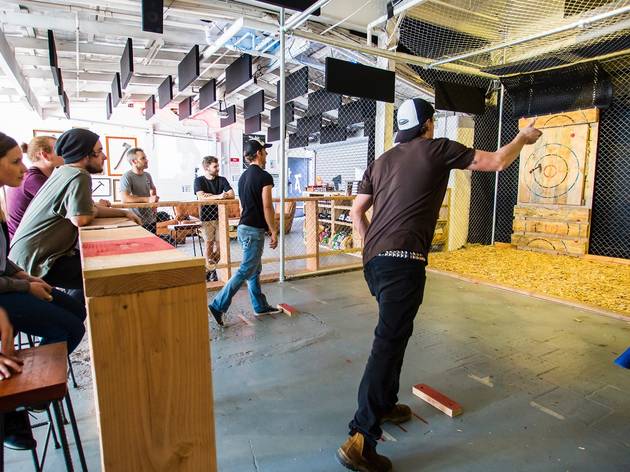 5/10
Photograph: Anna Kucera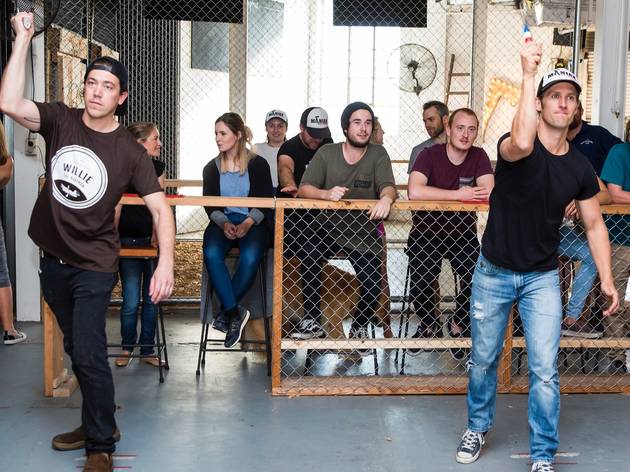 6/10
Photograph: Anna Kucera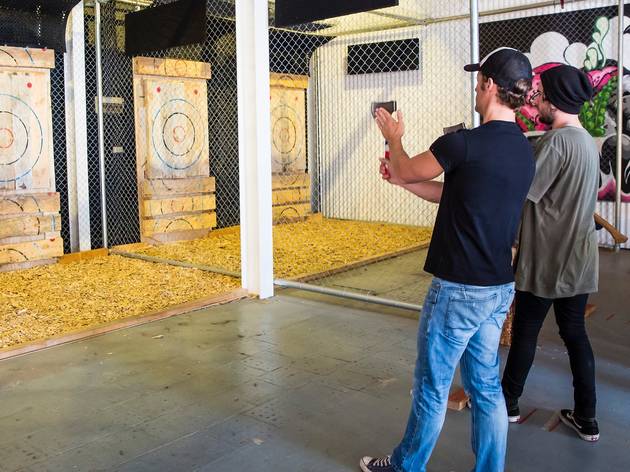 7/10
Photograph: Anna Kucera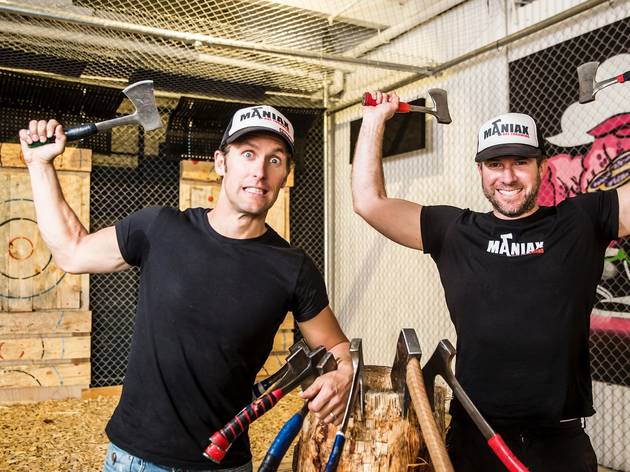 8/10
Photograph: Anna Kucera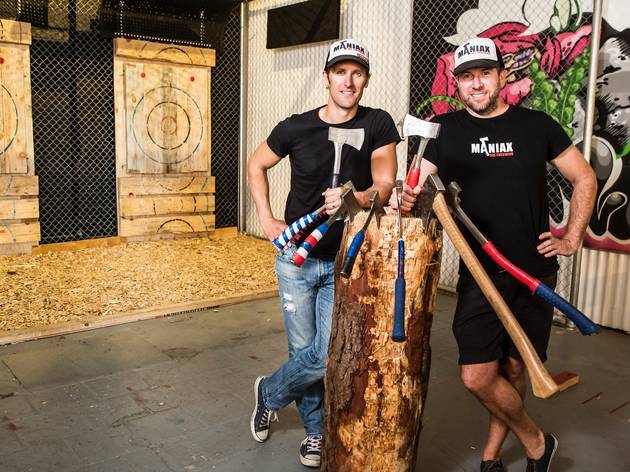 9/10
Photograph: Anna Kucera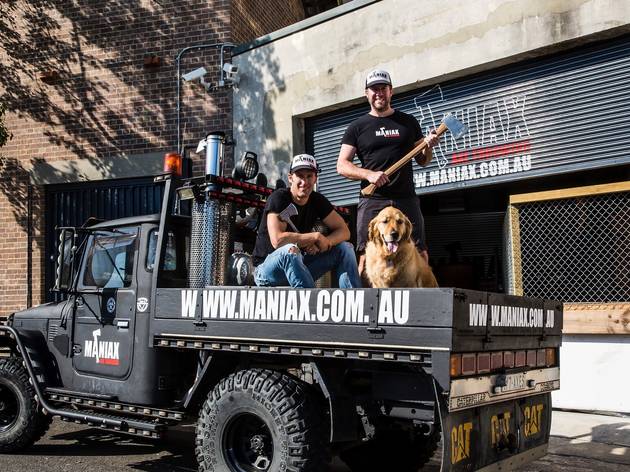 10/10
Photograph: Anna Kucera
Time Out says
Two Aussies have set up an axe-throwing league in the Inner West and, as Time Out finds out, it's not nearly as macho as it sounds
Update: Maniax is opening again to the public from Saturday, June 13. Usually, you'd pay $60 per person for a two hour session — but, for the rest of the month, you can get a session along with some energy to transform into axe-throwing rage, in the form of pizza and a beer, cider or non-alcoholic drink – all for just $75. Maniax is currently accepting bookings of up to ten people.
Keen to throw a hatchet at a wooden target? This warehouse set-up in St Peters attracts all sorts of people from hens and bucks parties to office outings.
"Everyone's got a different style," says Maniax co-owner Adam Schilling. "Some people are lobbers, some throw it hard, some soft…" They teach the same technique to everyone, says business partner Steve Thomas. "But everyone puts their own spin on it. Pardon the pun."
Schilling and Thomas are working airline pilots who've been mates since they shared a house in Adelaide. Steve came across the new sport while he was living in Canada. "We did it for my bucks party last year, and when I told Adam about it he was like 'we need to set up in Australia.'" They pitched a target in Adam's backyard in Coogee and "threw until the neighbours got upset".
"The first insurance broker we approached laughed and told us we were crazy," says Steve. They eventually got it over the line and the venue has a zero-tolerance policy on aggression, alcohol and thongs or heels. "We encourage people to get competitive, but not aggressive," says Steve. "We have lots of requests for divorce parties. You can take it out on our targets."
A few corporate groups have pinned buzzwords and company policies to the targets, but Maniax is not OK with pictures of people – for obvious reasons. Though there's no booze on site, new brewery Willie the Boatman is next door for a post axe-throwing schooner if you're feeling thirsty.
How does it work? "Each game consists of three rounds of five throws; the best of three wins the game," says Steve. Opponents score five points if the axe lands in the inner circle, three for the middle and one point for the outer ring. Then there's the 'Snatch' – two red dots at the top of the target, worth seven points.
"It's all about finding your inner lumber Jack or Jill," says Steve. Their top tip? "Follow through, then flick your wrist," adds Adam.
For the super competitive, there's a weekly league night (which they're expanding to three nights a week), so you can battle it out in a tournament of 30 people over eight weeks. Spectators are welcome, free of charge.
And it sounds like countrywide domination is on the cards for Maniax. "We're going to open four or five more of these venues," says Adam (who's originally from Tasmania). "One more in Sydney, Perth, Melbourne, Brissy. We're ready to unleash axe throwing across Australia."
Details
Address:
Suite 2.01
75 Mary Street
St Peters
Sydney
2044

Price:
$50
Contact:
Opening hours:
Mon-Sat 10am-10pm; Sun 10am-9pm
Best selling Time Out Offers