A weekend in Orange
Go west for a food and drink destination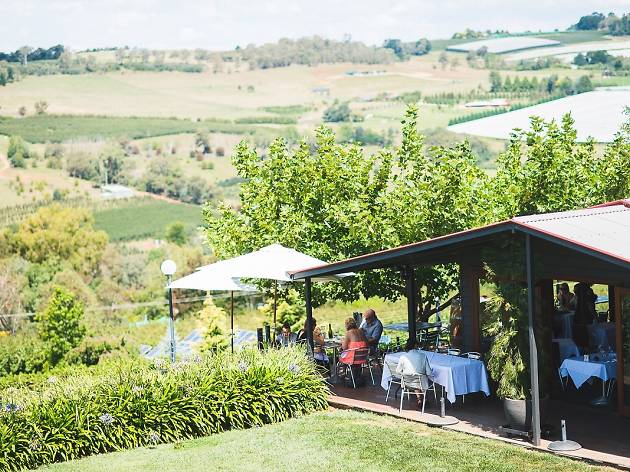 Head west to the fertile plains, where wine is plentiful, people are friendly and winter frosts mean fresh black truffles on menus everywhere. Talk about the sweet life...
Eat
There's nothing but good news when it comes to eating in Orange. Your coffee needs are safe in the hands of the talented roasters at Factory Espresso (135 Kite St, Orange 2800; 02 6360 2858). Heard of Bills Beans? Same guys. Their black-and-white tiled café wouldn't look out of place in Surry Hills, and it's crazy popular on weekends. Get in early for smooth, rich espressi, pecan and date granola, or a five-star breakfast burrito with local bacon, beans, spinach, cheddar and a boiled egg in a crispy tortilla casing. The morning after a winery adventure you may feel a little dusty, but the impossibly friendly people at Scrumptious on Summer (142-146 Summer St, Orange 2800; 02 6361 7200) will take care of you with eggs Benedict, any juice or smoothie combination you can dream of and absolutely no pretensions. Andsince you've come all this way, treat yourself to dinner at Lolli Redini (48 Sale St, Orange 2800; 02 6361 7748). This consistently awarded restaurant is not just for visitors. Everyone we meet recommends it, especially for the famous Gruyère cheese soufflé – a savoury hillock that is magically light and rich at once, and comes paired with a local pinot gris from Ross Hill.
Drink
Given you are deep in the heart of wine country, your evening boozing opportunities are far greater than just a lone country pub. Stop in for wine and buffalo wings at Percy's Bar and Kitchen, which on a Saturday night is packed to the rafters (120 Summer St, Orange 2800; 02 6361 2400). For a quiet nightcap, order a whisky by the fireside at Chesterfield's, an elegant bar above the Hotel Canobolas (248 Summer St, Orange 2800; 02 6362 2444), or indulge in alfresco boozing in the Union Bank Wine Bar courtyard (84 Byng St, Orange 2800;.02 6361 4441).
Stay
When you venture out west to visit this beautiful pioneer town with wide, leafy, terrace-lined streets, you should treat yourself to your own holiday house for the weekend. Fancy a little rural grandeur? Book the meticulously restored cottage at 19 Kite Street. It boasts three elegant bedrooms, glossy floorboards, and watercolours, paintings and decorative pieces that befit a country manor. It gets seriously chilly during winter, but a wood-fired stove, electric blankets and heated tiles in the master en suite will keep you snug as a bug in your fancy digs.
Play
If you can swing it, aim for the annual Black Tie and Gumboots Truffle Dinner at Borrodell Vineyard, but throughout winter you can add five shavings of fresh black truffle to any dish on the restaurant's menu. It's definitely worth striking up a conversation with the farm's owner and namesake, Borry, who will bend your ear on subjects from brandy making, erosion, the history of apple varieties and set design – prepare to throw your schedule out the window (298 Lake Canobolas Rd, Orange 2800; 02 6365 3425).
To seriously indulge your inner wine nerd, spend an afternoon at De Salis Wines where owner operators Charlie and Loretta Svenson will walk you through their range of wines while you kick back on the little timber verandah with a farm dog snoozing at your feet. If you really want to get into the nitty gritty of low intervention winemaking, during Orange's famous F.O.O.D Week in April they host barrel-to-bottle tastings where you try new ferments, older vintages and perhaps a pinot noir when it's funky and weird before it smoothes out to the delicious drop we know and love (125 Mount Lofty Rd, Nashdale 2800; 0403 956 295).
There is only so much you can eat on a weekend away, but you can take the best of Orange back home with you by dropping into A Slice of Orange (Shop 2, 200 Anson St, Orange 2800; 02 6369 0396). It's like a co-operative cellar door, so all the local honey, nuts, oils, chutneys, preserves, meats, sauces, and wine is in one handy spot. And if there's no room in the car, they also ship hampers anywhere in Australia.
And don't forget...
On your way out of town, swing off the highway and take the scenic route through the picturesque town of Millthorpe. This is where you can pick up a phenomenal pie and an Instagram-destroying cake from the Old Mill Café to fortify you for the drive home (12 Pym St, Millthorpe 2798; 02 6366 3188).
Time Out visited Orange as a guest of Brand Orange.