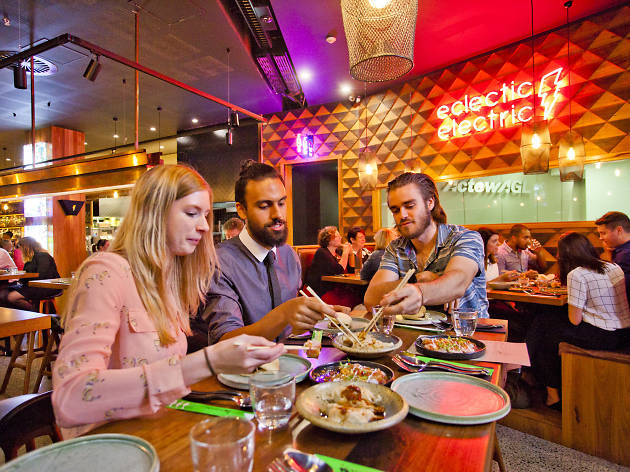 You're meeting a pal, you want to eat, drink and get a bit merry to the familiar tune of 'Ghetto Superstar', and you don't want to have to dress up. Akiba is definitely where you should head. This buzzy pan-Asian bar and restaurant is big enough that you can walk up on a whim, but it's also popular, so worth booking ahead for. Inside it's decked out a little like a cabin in the woods by way of a Tokyo karaoke bar. There's lots of warm timber lining the room and decorative wood piles as room dividers, but there's also a whole lot of rainbow neon too.
Pull up a stool to a high table and get snacking, though be mindful that serves aren't small so you can fill up quick. Their dumpling game is on point – gossamer wrappers around tender pork and chicken in a bright and energetic vinegar and ginger dressing – and they don't get lazy on the veggo front, grilling a whole half eggplant with sweet miso and then adding some snap, crackle and pop with pepitas, puffed rice and seaweed.
The salt and Szechuan pepper squid needs more firepower and an onsen egg lacks the garlic bite that makes aioli the classic accompaniment. Instead, we'd go round two on the dangerously tender kobe skirt in sweet teriyaki. You won't even notice the Moriki Shuzo Suppin Rumiko sake going down, it's that smooth, but if you want to linger on a drink the grüner veltliner from Rabl in Austria is the right speed of easy drinking for a snack and catch-up evening.
Venue name:
Akiba
Contact:
Address:
40 Bunda Street
Canberra
Canberra
2601

Opening hours:
Daily 7.30am-late