Best Airbnbs in Hawaii
Ready for a trip to paradise but nowhere to stay? Don't worry – we've cherry-picked the best of Hawaii's Airbnbs, from off-grid treehouses to volcanic havens
From Kahuku to Kauai, Hawaii spells out one thing: beautiful. And one of the (many) things that makes a trip to America's Pacific island state so special is being able to stay somewhere truly unique. Forget the familiar hotels and instead base yourself at an off-grid jungle hideaway, a surfer's beachside abode or a minuscule home at the foot of a volcano. Whatever your tastes and needs, this stay probably won't be like anything you've experienced before. What's more, these quirky one-of-a-kind living quarters are the perfect match for exploring a region made of coral reefs, dense jungle, black sand beaches and epic views of lava cascading into the sea. Don't blame us if you never leave.
© Airbnb
If 'relax more' is somewhere on your to-do list, then do yourself a favour and make a reservation at this glorious bamboo temple. With stunning panoramic views and a location that is only a short walk to a waterfall, this property allows you to take full advantage of the lush Hawaiian scenery during your stay. Better yet, you'll also be looking after it by staying in an eco-resort. This is paradise done the sustainable way, and boy does it look sweet.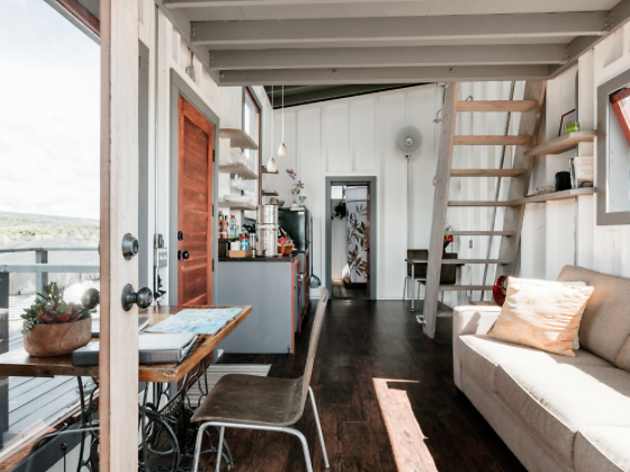 © Airbnb
You'll be blown away (very much metaphorically) when you book a stay at this teeny tiny house at the foot of an active volcano. Designed by ArtisTree, which specialises in bespoke treehouses and unique small housing structures, it provides uninterrupted views of the mysterious volcanic landscape nearby. It's also saturated with natural light and, thanks to its dinky size, is the perfect place for a very romantic, very cosy couples' escape.
© Airbnb
Live your best Hawaiian life in this insanely beautiful treehouse. Located in a region of dense jungle, you'll be genuinely off-grid for the duration of your stay. Ascend to your personal sanctuary and take in the 360-degree view of the tropical foliage all around. This place could satisfy your yearning to get back to nature while still making the most of modern eco-friendly tech. Shower under fresh rainwater in the sleek bathroom and bask in the benefits of solar power. You'll leave glowing, we promise.
© Airbnb
Nothing says 'Hawaii' quite like the ocean. Station yourself at this private cabin and you'll soon be gazing out across more than 60 miles of South Kona coastline. Your quirky new home is an Old Hawaiian-style place of 'Ohana' (family), complete with its own garden of delectable tropical delights, including palm, mango, papaya, avocado, banana and citrus plants. It's also within a pebble's throw of restaurants, shops and a weekly farmers' market. Delicious.
© Airbnb
You'll be off-grid and about eight feet up in the air at this eco-conscious and gorgeous treehouse. The building may be tiny and cosy, but the sensation is one of never-ending space when you look out of the windows and gaze into the endless jungle. The bespoke house has been designed with many beautiful flourishes, including a lava-themed bathroom. And, just to make you feel like a kid again, there's a swinging bridge and a zip wire!
© Airbnb
Peaceful rainforest treehouse
Eight miles away from the Hawaii Volcanoes National Park, this gorgeous treehouse is a little slice of 'perfect'. The whole place is designed with one thing in mind: relaxing. You're encouraged to find that inner calm by lying back in the Balinese Bale daybed or strolling through the lush tropical gardens – you might even make friends with a gecko or two!
© Airbnb
This ground-floor retreat is an Airbnb Plus property, promising abundant space, light and the freshest of fresh air. Located in Captain Cook, the house is just a mile away from the stunning Kealakekua Bay, where you'll find luminous ocean waters and coral-covered reefs. Perhaps best of all, you'll be staying on an organic mango farm and your living quarters will be in the heart of the idyllic orchard.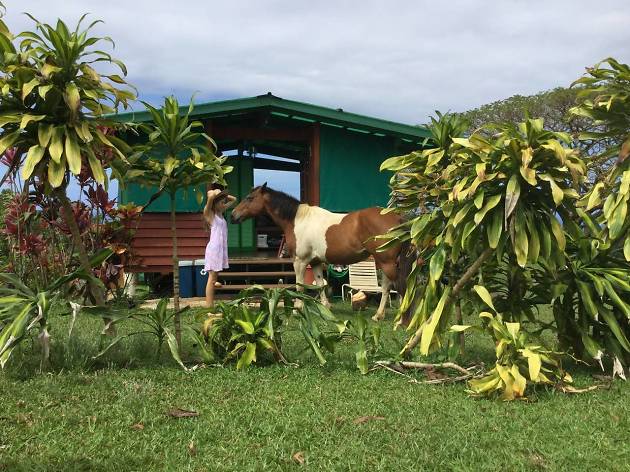 © Airbnb
Back to basics nature retreat
If you're in search of an adventurous holiday stay that will submerge you in the outstanding nature of Hawaii, then look no further than this back-to-basics retreat. You might not get all the creature comforts of a bijou stay, but who needs them when you've got access to your own private waterfalls and swimming holes? You can also make friends with the owner's three horses, Nohea, Mahina and Shy Girl.
© Airbnb
If you're heading to Hawaii with the express wish to catch some waves, this could well be the Airbnb destination for you. Just five minutes from a hidden beach, the two-storey house is set up with sand, sea and surf in mind. It's also only ten minutes from the town centre, where you'll find plenty of restaurants, bars and shops to keep you powered up and ready for another day out on the water.
© Airbnb
Nature really doesn't get much more epic than this. Book to stay just four miles away from one of the most active volcanoes on Earth. But don't be afraid: you'll get all the striking views, glorious sunsets and blessed beauty without any danger. This concealed sanctuary is also ten minutes from the black sand beach where you can swim with dolphins before watching the sky illuminate with millions of stars.
Show more