Best bars, clubs and nightlife in Toronto
When the sun goes down, discover the best places to drink and be merry as recommended by Toronto's local experts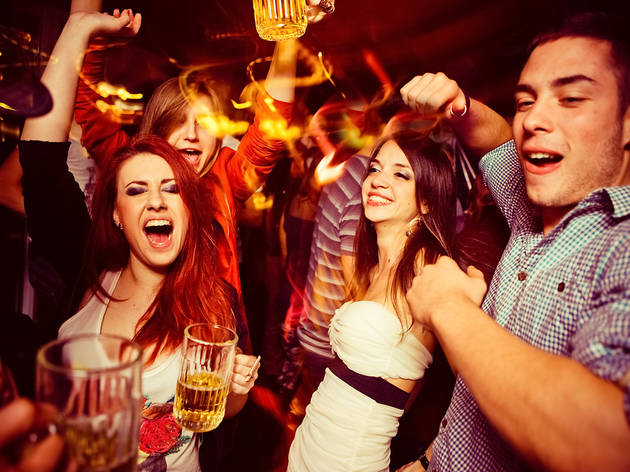 Where are Toronto's best bars hiding? Start the night in the Distillery District. Formerly the home of the largest distillery in the world, it's now a bustling pedestrian neighbourhood, full of art galleries, restaurants and patios, all in a restored Victorian Industrial architectural setting.
And if you'd like a little bit of education alongside your pint, check out Steam Whistle Brewing, which hosts brewery tours that include samples. Located in what was once a locomotive repair facility for the Canadian Pacific Railway, it's walking distance from the Rogers Centre and the CN Tower.
Want to get in touch with Toronto's Upper Canada roots? Canada is still part of the Commonwealth, and that means more than just having the Queen on our money next to a moose. Pop into The Queen and Beaver for a pint of local cask beer and some British inspired pub grub, reimagined with Canadian twists. This is a grown up pub for grown up people: less a student hang out and with a more after-work vibe.
But if you're feeling a little lost in all the hustle and bustle of tourism, stop by The Loveless Café. It's so local, it doesn't even have a sign, but this is the spot where everyone will at least pretend to know your name. Equally as cool over lemonade at noon as it is over a drink at night, no one is lonely at The Loveless!
If you're looking for a place that will just make you feel cool, look no further than Cold Tea in Kensington. Brave your way down the alley behind an ugly mall to find a hipster-approved speakeasy. The door is unmarked: you'll head in expecting to find a room full of ninjas in training, but a hopping bar complete with DJ and dim sum is just as cool (we suppose). Unsurprisingly there's no menu, but thankfully the bartenders are helpful (though if you order a Long Island Ice Tea, they may roll their eyes).
Once you emerge bleary-eyed from this hidden gem, head over to another Toronto classic—Pauper's Pub, whose rooftop patio boasts a fantastic view of the skyline from atop what was once the Canadian Imperial Bank of Commerce. If it's too cold head indoors where there's live music and a dance floor, as well as restaurant seating.
If you want to bowl while you schmooze, look no further than The Ballroom, a two-storey bar and restaurant complete with tenpin bowling. Alternatively, head to SPiN, where you can sip a cocktail while playing on one of the 12 ping-pong tables.
If that's all a bit too active for you, Communist's Daughter is here to help. This indie darling is full of mismatched furniture, comforting live folk music on weekends, a jukebox full of jazzy classic rock during the week, oh and pickled eggs.
It's a bit tricky to find, as the signage from the space's previous incarnation as "Nazare Snack Bar" take front and center, but it's worth it: don't miss their theme nights, like when they invite patrons to bring in vinyl records, and get the whole bar to vote whether or not to play the A side after hearing the B. It's not as full of hipster nonsense as that sounds, we swear!
If you simply must get your groove on though, Toronto has you covered. Dance the night away with the city's best Drag Queens at Crews and Tangos. Smack in the middle of Toronto's hippest Gaybourhood, it has a 'come as you are' vibe that welcomes everyone—as long as you like your dance floor covered with glitter. Or get in line for Revival Bar; they've hosted the likes of Justin Timberlake, Black Eyed Peas and Kid Rock, but more importantly they hold rocking burlesque shows and play host to hip hop karaoke! If you don't want to wait in line, try getting yourself on the VIP list at The Everleigh: don't let the friendly-Canadiana theme fool you. The Everleigh caters to the bottle-service-loving young professional crowd that also likes their DJs firmly in the early 00's. It's a good time, if you can get in!
But if you're looking for live bands, you really only have two options: Parts and Labour and Sneaky Dee's. Parts and Labour is all restaurant upstairs, but downstairs, in The Shop, it's like the basement of that kid you knew in high school who was drastically under-supervised. They host a ton of touring bands and hot new DJs before the hipsters find them. Sneaky Dee's is where those bands end up if they're any good; their graffiti covered walls have seen the start of some of Canada's biggest indie rock bands, from Arcade Fire and Broken Social Scene to Fucked Up and Feist. Plus, they have seriously good nachos.
Bar and club details
The Ballroom145 John St. 416 597 2695.
Crews and Tangos 508 Church St. 647 349 7469.
Communist's Daughter1149 Dundas Street W. 647 435 0103.
The Everleigh580 King St. W. 647 907 6673.
The Loveless Café 1430 Dundas St. W. 647 346 2404.
Parts and Labour 1566 Queen St. W. 416 588 7750.
Pauper's Pub 539 Bloor Street W. 416 530 1331.
The Queen and Beaver 35 Elm St. 647 347 2712.
SPiN 461 King Street W. 416 599 7746.
Revival Bar 783 College St. 416 535 7888.
Sneaky Dee's 431 College St. 416 603 3090.
Steam Whistle Brewing The Roundhouse, 255 Bremner Blvd. 416 362 2337.