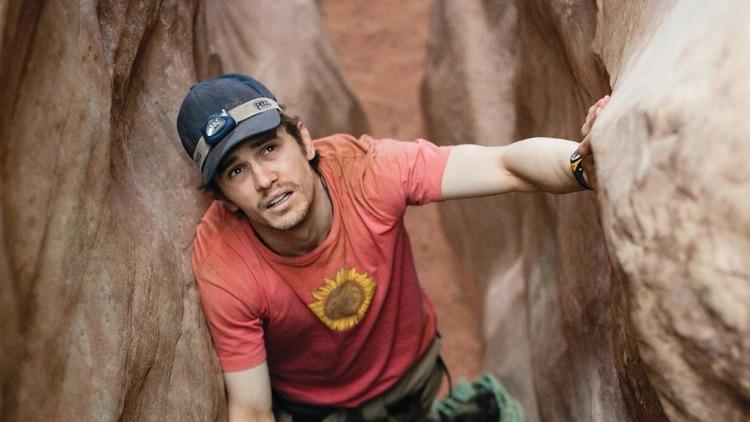 Reviewed at the Toronto Film Festival

In what may be his best film since 'Trainspotting', Danny Boyle pulls off an intense, white-knuckle ride of a movie, most of it set in a single location, with a single protagonist pinned to the spot, slowly dying of starvation and dehydration. It hardly seems like a natural subject for this most restless and energetic of filmmakers, but Boyle (sharing a screenwriting credit for the first time, with Simon 'Slumdog Millionaire' Beaufoy) rises to the challenge and makes it his own.

James Franco plays real-life climber Aron Ralston, a thrill junkie who finds his life less ordinary by exploring the precipitous nooks and crannies of the Grand Canyon on foot and by mountain bike. In the movie's exhilarating first act, Boyle lets us revel in Aron's devil-may-care mastery of this environment, his expert knowledge of the terrain, his agility and youth. Picking up a couple of lost hikers (Kate Mara, Amber Tamblyn) he promises them a secret cave, and 'the most fun you will ever have with your clothes on', and damn if he doesn't deliver. It's like 'The Beach', only better: Shangri-La for three. And then he's off again, on his own, without a backward glance.

The mood changes in an instant, when a boulder gives way and lands, crushingly, on his arm. It's a freak accident, miles from civilization, deep in a desert canyon, with next to no hope of outside rescue.

It's a grim plight, but Boyle scarcely lets it cramp his style: an instinctive sensationalist, he immerses us in the danger and desperation coursing through Aron's body as he pits himself against the insurmountable weight of the rock, with only a blunt pocket knife, some climbing ropes and 300 ml of water to draw on.

Shot by Anthony Dod Mantle on a plethora of digital cameras, and with a euphoric electro-beat score by AR Rahman, '127 Hours' crash-cuts between the highs and lows of a young man on his last legs, refusing to succumb. Deliriously ranging between the past and the present, fantasy and reality, the macro and the micro – the movie is a total rush, building towards a wrenching climax you won't soon forget. It's also an absolute triumph for James Franco, who runs the full gamut from charm and defiance, to self-pity, anguish and remorse, and every station in between. There are harrowing scenes here you might not want to watch, but the movie as a whole is simply unmissable.


Cast and crew
Director:
Danny Boyle
Screenwriter:
Simon Beaufoy
Cast:
James Franco
Lizzy Caplan
Amber Tamblyn
Clémence Poésy
Treat Williams