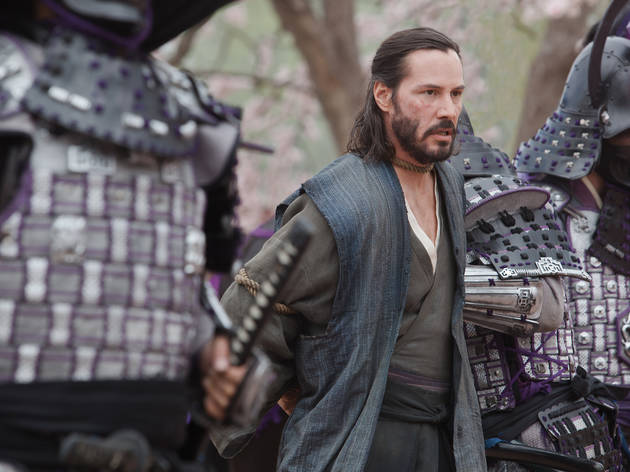 The story of the 47 ronin—disgraced samurai who avenged their master despite the shogunate's strict forbiddance—is one of the most popular tales in Japanese history. Books have been written, operas composed and numerous movies made (the most notable in 1941 by the great Kenji Mizoguchi). Now the English-speaking world gets a moronically loud and obnoxious version of its own, tarted up with mythical monsters, gravity-defying swordplay and Keanu Reeves.
His Whoa-ness plays Kai, a half-breed servant with kick-ass fighting skills. After his lord is forced to commit seppuku due to the machinations of an evil witch (Rinko Kikuchi) and the power-hungry soldier (Tadanobu Asano) she has under her spell, Kai teams up with several dishonored warriors to seek vengeance. The basics of the story remain unchanged, but it's the wanna-be-blockbuster additions that rankle, be it the incoherent direction of first-time feature director Carl Rinsch or the copious CGI beasties who look like rejected Lord of the Rings villains.
Follow Keith Uhlich on Twitter: @keithuhlich
Release details
| | |
| --- | --- |
| Rated: | PG-13 |
| Duration: | 119 mins |
Cast and crew
Director:
Carl Rinsch
Screenwriter:
Chris Morgan, Hossein Amini
Cast:
Keanu Reeves
Hiroyuki Sanada
Cary-Hiroyuki Tagawa
Rinko Kikuchi
Tadanobu Asano

Rating Breakdown
5 star:

0

4 star:

1

3 star:

0

2 star:

0

1 star:

0
Absolutely worked for me: the film had the trappings of "the action film", but that belied its real attributes - above all it invited my participation and afforded the space for reflection. Emotion was palpable, and fantasy Harry Potter like episodes seemed to be developed from Japanese legends and culture, and therefore did not seem completely arbitrary. I was spellbound, found the Japanese-English a plus, and it should stand proud with its resonances of Shakespeare and Kurosawa. The makers of this film had their sights on things other than the box office - congratulations!
Saw the 47 Ronin yesterday and enjoyed it very much. The basic story was all there but a Japanese folklore was threaded throughout; which I very much appreciated. This take is more of legend that would be told to children and on that level it succeeds in reaching the child in us all. The key plot points of Lord Kira's treachery and Lord Asano's disgrace are present along with the inevitable fate that await the Ronin in the pursuit of selfless honor and retribution. Hiroyuki Sanada plays the Ronin leader Oishi and is in fact the primary protagonist. Keanu Reeves is a supporting character and a window for western audiences to be introduced to Japan's cultural tale of Bushido and mythic story telling style. He is by no means the lead and his presence serves to enrich the subtext of the film which is: Honor is achieved, not given. Live your life to its fullest, but die well. Live in a way to inspire men, even if it will certainly cost you everything. Do right, even if it will shame you even unto death. I can't respond to the critics. I just think they didn't get it. I am a practitioner of Japanese Bujutsu arts and have a great respect for the ideals and traditions preserved in Bushido. In my opinion this film was respectful to the material and creative in its approach.