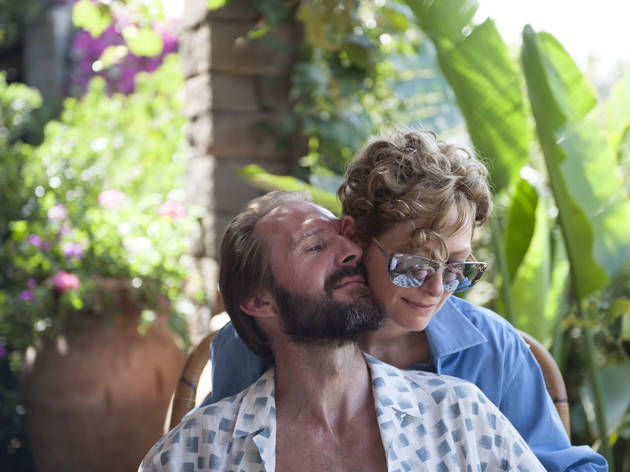 Time Out says
Ralph Fiennes steals the latest melodrama from Tilda Swinton and director Luca Guadagnino.
Ralph Fiennes follows his devilishly comic performances in The Grand Budapest Hotel and Hail, Caesar! with an equally hilarious turn in this Italian set, playful and highly strung melodrama from Luca Guadagnino (I Am Love). The film is a remake of the 1969 French film La Piscine and it's an endearingly loopy, occasionally half-cooked but always ambitious movie about middle-aged characters touched by fame and success, who live in a bubble so decadent that they might get away with murder if they tried.
I Am Love star Tilda Swinton reteams with Guadagnino as Marianne, a Bowie-like rock star who's recovering from a throat operation—meaning Swinton spends most of the film silent or whispering, lending her a vulnerability we've rarely seen until now. Marianne is spending the summer in a villa on an Italian island with her younger boyfriend Paul (Matthias Schoenaerts, moody and hard to read) when her ex Harry (Fiennes) turns up out of the blue with his newly discovered 22-year-old daughter, Penelope (Dakota Johnson) in tow. He calls Penelope a "lovely bit" and soon Marianne is warning him that people might get the wrong idea.
Fiennes's Harry, a music biz veteran, is a nightmare guest to rival Ben Kingsley's Don in Sexy Beast. You can't take your eyes off this livewire: He's full of energy, stories and confidence. He dominates every second of the day, and Fiennes has a film-stealing scene as he dances open-shirted in the villa's living room lip-synching to the Stones' "Emotional Rescue." Old resentments and attractions bubble up, new ones emerge and Guadagnino throws us into a storm of food, music, talk and sexual tension. Before long, a black cloud arrives to kill the humor like a needle being scratched off a record player.
As in I Am Love, Guadagnino lets it rip with bold music, stylistic flourishes that don't always come off and the trials and tribulations of a very fashionable beau monde. It's an uneven film and its later, darker moments don't always feel earned. Occasional allusions to a crisis of illegal immigrants on the island feel awkward and the portrayal of the Italian police is flippant. But this is often a seriously fun film with a shadier side that's ripe for unpacking when the lights go up.
Details
Release details
Rated:
R
Release date:
Wednesday May 4 2016
Duration:
124 mins
Cast and crew
Director:
Luca Guadagnino
Screenwriter:
David Kajganich
Cast:
Ralph Fiennes
Dakota Johnson
Tilda Swinton

Users say