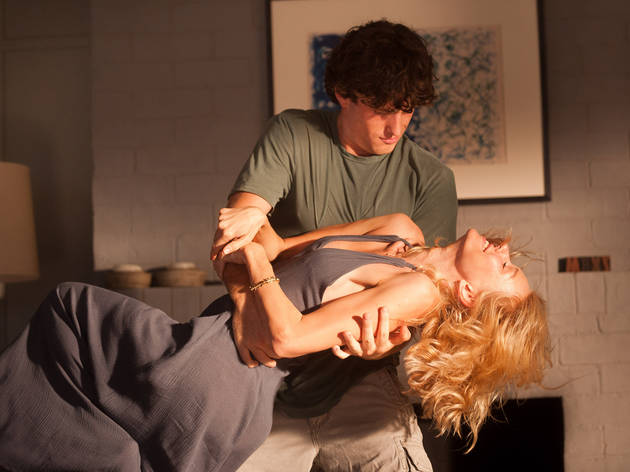 Time Out says
Roz (Robin Wright) and Lil (Naomi Watts) are lifelong friends living in an Australian ocean wonderland. Lil's husband died several years before and Roz's spouse has just accepted a teaching job in Sydney. The ladies' primary companions are their strapping surfer-dude sons, Ian (Xavier Samuel) and Tom (James Frecheville), fresh into young adulthood. "They're like gods," says one of the women, as they gaze at their children with more than a hint of carnal longing. Fortunately for them, the young men feel similarly. Swallow that "Ew!" that's building in your throat, at least partially: The boys have the hots for each other's parents, not their own.
It's a titterworthy premise, to be sure, though director Anne Fontaine and screenwriter Christopher Hampton, adapting Doris Lessing's novella The Grandmothers, treat this mother-love melodrama with the utmost seriousness. At times their lushly allegorical approach (every sun-dappled image could be a postcard from utopia) seems ridiculous, while the initial seductions—one genuine; one done, at first, out of spite—have a leeringly campy quality. You can barely stifle a laugh, and the way Wright and Watts deliver rote, morally searching dialogue with deer-in-the-headlights stoicism ("We've crossed a line," Lil blankly notes) doesn't help matters.
But the film markedly improves once Hampton introduces the first of several narrative ellipses that push the story further into the realm of adult fable. Much time passes and circumstances change, but the quartet, at least outwardly, remains the same. The Edenic setting starts resembling an abstract psychological space (one where beauty effectively banishes morality), and the movie slowly builds to a gut-punch of a finale that profoundly portrays how the characters' paradise has become a prison.
Follow Keith Uhlich on Twitter: @keithuhlich
Details
Release details
Rated:
R
Release date:
Friday September 6 2013
Duration:
111 mins
Cast and crew
Director:
Anne Fontaine
Screenwriter:
Christopher Hampton
Cast:
Robin Wright
Naomi Watts
Xavier Samuel
James Frecheville

Users say