After Earth: movie review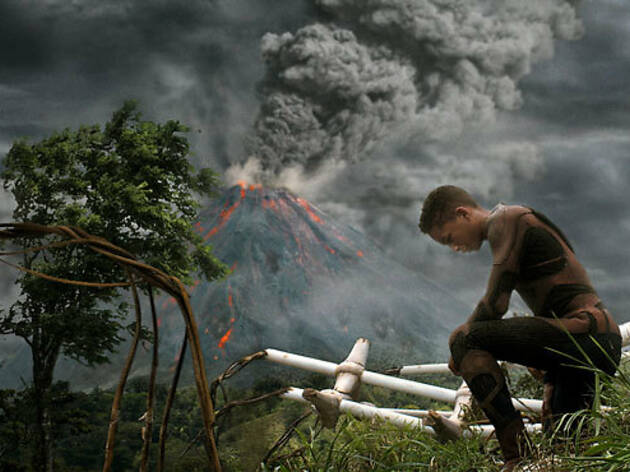 Time Out says
How the mighty have fallen. We're not just speaking of warrior-class father-son team Cypher and Kitai Raige (Will and Jaden Smith), the last survivors of a spaceship crash on a devastated, human-abandoned future Earth. We're also talking about director M. Night Shyamalan, whose name has been all but scrubbed from the marketing for this competent, occasionally stirring science-fiction adventure. It's a long way down from "the next Spielberg" to yeoman hack.
Fortunately, the very real lows of The Last Airbender (2010), the Sixth Sense director's most previous foray into YA-fantasy territory, are relegated to a hilariously nonsensical opening voiceover—something about environmental devastation, mass exodus and "ghosting." Instead, After Earth is primarily a fleet, focused two-hander that sidelines Smith père in a voice-of-God role, while Smith fils runs, jumps, flies and avoids a beastie that resembles a living booger in his search for a come-save-us homing beacon.
Shyamalan still has some of the suspense-ratcheting talent he displayed in heyday efforts like Signs (2002); Kitai's against-the-clock attempt to inject himself with antivenom after he's bitten by a leechlike organism certainly gets the adrenaline flowing. What undoes the film is its rather rancid parent-child sentimentality (a Shyamalan staple, admittedly) and a charisma-free performance from the younger Smith that suggests the apple has fallen very far from the tree, indeed. At least the tacked-on narrative twist is a thing of the past. Making progress, M. Night.
Follow Keith Uhlich on Twitter: @keithuhlich
Details
Release details
Rated:
PG-13
Release date:
Friday May 31 2013
Duration:
100 mins
Cast and crew
Director:
M Night Shyamalan
Cast:
Will Smith
Jaden Smith
Isabelle Fuhrman

Users say