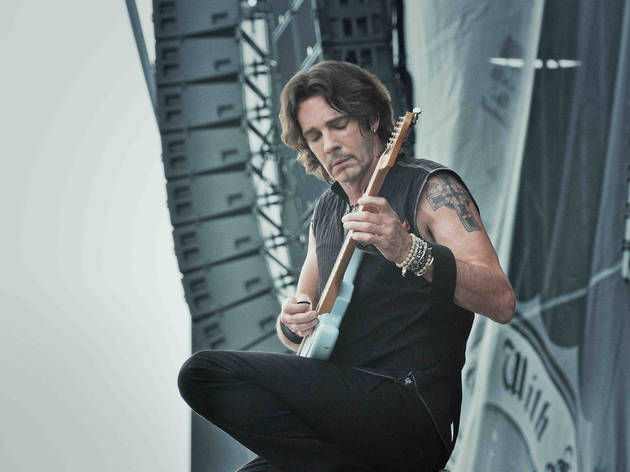 Rick Springfield, 63 yet enviably maintained, has more to hold on to than most '80s survivors: a handful of perfect pop songs that instantly evoke skinny-tie frustration, and a rabid (if aging) female fan base. His moment is long over, but you wouldn't know that from the county-fair appearances and an annual ocean cruise to Turks and Caicos—yes—that collects hard-core groupies into a screaming, seaborne mass. Sylvia Caminer's quietly radical profile omits the usual Behind the Music details and focuses on these women, living out their nostalgia to the frowns of jealous husbands. Springfield, for his part, loves it, yet his wife of almost 30 years seethes on the periphery. It hasn't been easy for either of them, it's implied.
An Affair of the Heart takes its vaguely creepy stance as a new kind of music doc, one that dives into a mess of warmed-over teenage attachment and an artist's desperation to stay in the limelight. Yes, the connection is real, with Springfield showing unusual commitment: He jumps on hotel beds with moms, stays in touch with long-suffering medical patients and cements a bond with a kid-turned-musician who often joins him onstage. It doesn't matter how many of these moments are self-flattering; the subtext is clear enough. If the documentary lacks anything, it's a firmer grasp of Springfield's own transformation, from "kind of a dick" (per ex–MTV jock Mark Goodman) during his heyday to a giving, appreciative showman. Call it humility, shaded with weird, two-way neediness. Jesse's girl may have dodged a bullet.
Follow Joshua Rothkopf on Twitter: @joshrothkopf
Release details
Cast and crew
Rating Breakdown
5 star:

0

4 star:

1

3 star:

0

2 star:

0

1 star:

0
"... yet his wife of almost 30 years seethes on the periphery. It hasn't been easy for either of them, it's implied." As one of seven fans whose story is featured in An Affair of the Heart (and who has seen the film), I'm trying to imagine the basis of this statement comes from when Rick's wife is only seen fleetingly at a distance, in a single scene filmed in the piano bar during one of the cruises. Because she is an extremely private person, Barbara was not interviewed and does not speak at all in the film; in fact, in this particular scene she is sitting among some fans, looking on adoringly as her husband sings a song written for her. She is on camera 10 seconds at most. Springfield has always been public about the ups and downs of his marriage, so this particular hint of sensationalism thrown in by Mr. Rothkopf for the sake of titillation is wholly unnecessary because in truth, it never happened.