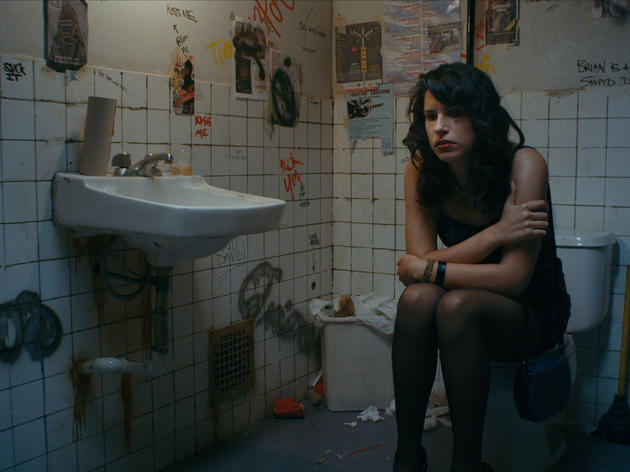 Time Out says
"I feel dead inside," says Desiree Akhavan with the kind of grim conviction that would make even Morrissey look insincere. Given that this NYC indie is Akhavan's movie debut as writer, star and director, you'd expect nothing less than 100 percent from the 30-year-old—even as the world her character navigates is confusing and ridiculous. She plays Shirin, an Iranian-American hipster trying to recover from a breakup with her girlfriend while finding her niche in boho Brooklyn.
It's shades of Girls, no doubt (Akhavan and Lena Dunham are buddies in real life, and the rising star appears in the new season). Existential conversations take place with a Park Slope Food Coop "walker" lurking in the background; Shirin's first tentative hookups include an OkCupid date whose idea of going out for a drink is brown-bagging beer while sitting on a stoop. But Appropriate Behavior isn't all knowing LOLs; there's a satisfying depth and heart here too, that's more in line with Annie Hall. Shirin's abysmal online tryst cuts to an intimate sex-with-the-ex memory that's blushworthy in all the right ways. Through flashbacks, we watch the couple's relationship sputter into life and run a wobbly course to its ignominious end ("You're ruining my birthday," "You're ruining my twenties!").
Shirin's awkwardness may be fashionable, but it's not affected—she's genuinely scared to confess her fluid sexuality to her conservative Iranian parents, and doesn't remotely fit in at her family circle's bourgie Persian parties, any more than she suits the supposedly confidence-boosting bustier she's coaxed into wearing at a fancy undies store. For all the brazen charms of this warm, funny debut, though, its quieter moments signal a profundity that's really worth getting excited about.
Details
Release details
Rated:
N/R
Release date:
Friday January 16 2015
Duration:
90 mins
Cast and crew
Director:
Desiree Akhavan
Screenwriter:
Desiree Akhavan
Cast:
Desiree Akhavan
Rebecca Henderson
Scott Adsit
Halley Feiffer