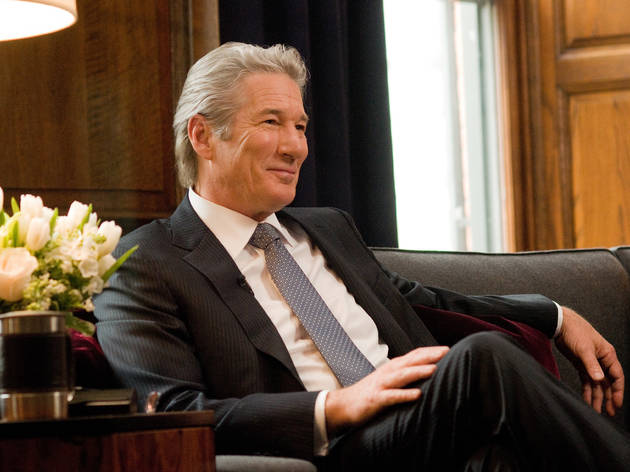 It's easy to miss what Richard Gere, even better these days as a silver fox, has done well for so long. (His wince-into-a-realization chuckle was parodied by Steve Coogan in The Trip, one hopes affectionately.) Since 1980's stylish American Gigolo, Gere has tried to undermine his good looks with anxiety: a proto-Gosling. But with the business-wonky Arbitrage, the actor arrives at his finest balance to date between his natural ease and a skittering, internal ruination. The role is one of these hedge-fund lions, a private-jet-cruising smoothy who, in the logic of a vaguely preposterous script, is embezzling millions to cover up risky deals and hiding the accidental highway death of his mistress, having fled the crime scene.
Amazingly, Gere keeps it all together, via a kind of seething anti-rage that speaks reams to the character's survival instincts. Sex, wealth, paternal swagger—all of the colors come out of Gere in a showstopping performance. Written and directed by Nicholas Jarecki (the brother of two fine documentarians), the movie has just enough glitz to wander into the satiric neighborhood of high Tom Wolfe, but centrally, it's a story about margin manipulations and buttoned-down lawyering, far from a thriller. Still, the film zings along like one, and you turn to a pair of highlights on the side: Susan Sarandon's half-snowed wife, due for payback, and the particularly vulnerable Brit Marling (Sound of My Voice), playing a daughter headed for disillusionment.
Follow Joshua Rothkopf on Twitter: @joshrothkopf
Release details
| | |
| --- | --- |
| Rated: | R |
| Release date: | Friday September 14 2012 |
| Duration: | 100 mins |
Rating Breakdown
5 star:

1

4 star:

0

3 star:

1

2 star:

0

1 star:

0
This is a good film but with some quite serious flaws. While the plot centres on Robert Miller's appalling financial shenanigans, it is complicated by the car crash and its aftermath. The latter is investigated closely by the police, but - rather amusingly - they seem to have no inkling of Miller's financial dealings. Issues of race and class, both represented by the character Jimmy, are touched upon but not developed dramatically. And the ending is unconvincingly positive in the light of all that has gone before. Richard Gere is a compelling actor, but (speaking for myself) I was far more conscious of him as I watched than of Robert Miller. 'Arbitrage' has the makings of a very fine film, but it seems to me that, as a drama, it misses some major opportunities. Maybe it would be as well to see it again...
I adored this movie. Its not just slick. There IS a message. Even the only uncorruptable, the black guy, who has honor and loyalty has his code, and on whose trustworthiness the whole plot hinges is, at the very end corrupted. The wife, the daughter, the friend who helped him. All corrupted. Gere is gorgeous. Better and better with age.