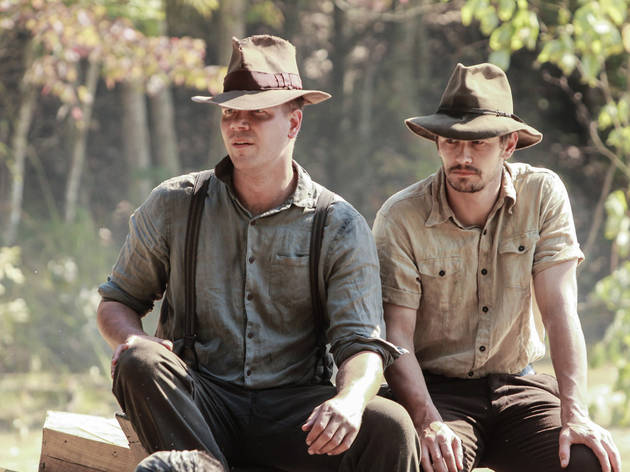 You can say this about James Franco: The man does not lack for ambition. It takes serious stones to adapt for the screen William Faulkner's modernist novel about a family—the Bundrens—attempting to bury the clan's late matriarch, what with its constantly shifting perspectives (15 narrators over 59 chapters), its stream-of-consciousness writing and a Southern Gothic-ness thicker than Mississippi molasses. But bucking common sense and having the chutzpah to stake a claim to a canonical work is one thing; capturing—in any way, shape or form—the elements that made said tome a masterpiece is a whole other matter.
If we always kill the thing we love, then Franco is truly head over heels for this literary game changer: Split-screen compositions, direct address to the audience and dense, near-indecipherable dialogue may be intended as an equivalent to Faulkner's narrative loop-the-loops or as a demonstration of fidelity to the author's regional prose, but they quickly smother whatever greatness was inherent in the material. Faulkner's vivid, tragic and tender world is nowhere to be found here, and it's a deal breaker by any other name.
Utilizing what's quickly becoming a repertory company of actors (Scott Haze, Jim Parrack, the great Tim Blake Nelson) to adapt difficult landmark books is becoming a habit for the Renaissance man (see his recent crack at Cormac McCarthy's Child of God). Where once someone could have accused Franco of wanting to be the new Montgomery Clift, he's now closer to becoming our generation's Joseph Strick—the filmmaker who tried to wrestle Henry Miller's Tropic of Cancer and James Joyce's Ulysses and A Portrait of the Artist as a Young Man in the '60s and '70s, and lost. Rumor has it that our young hyphenate has set his sights on The Sound and the Fury next. The past may never be done with us, but Lord, do we wish Franco was done with our literary heritage.
Follow David Fear on Twitter: @davidlfear
Cast and crew
Director:
James Franco
Cast:
James Franco
Logan Marshall-Green
Tim Blake Nelson
Jim Parrack
Ahna O'Reilly
Danny McBride
Beth Grant
Scott Haze