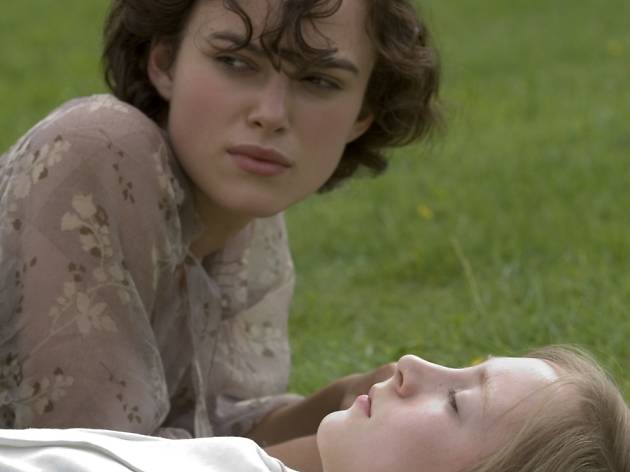 Time Out says
The hat trick of Ian McEwan's 2001 novel, Atonement, was spinning a typical English country-estate melodrama while simultaneously deconstructing trad Brit lit and equating the writing process with divine providence. Successfully translating these ideas to the screen, however, seemed as likely as Heathcliff coming to a happy ending. Which makes Joe Wright's big-screen version all the more impressive: He's produced a gripping, romantic yarn without sacrificing the source's meta-examination of fiction's power. Not even the director's swooning take on Pride & Prejudice (2005) could have prepared folks for this.
Clacking endlessly at her typewriter, 13-year-old Briony (Ronan) fancies herself a budding Brontë. After she spies her sister (Knightley) and a servant's son (McAvoy) engaged in brief encounters, her hyperactive imagination paves the way for tragedy. Years pass, WWII breaks out and the lovers vow to reunite; the now-older Briony (Garai) pays penance as a nurse. There's a secret that's better discovered than disclosed, and the key misstep in Wright's doggedly anti–Merchant Ivory adaptation is that, unlike the book, it doesn't play up the third act enough to make the climactic revelation more jaw-dropping.
Yet Atonement's extraordinary qualities outweigh any quibbles. Both Knightley and McAvoy finally justify the ink spilled declaring them movie stars, and even virtuosic flourishes like Wright's Dunkirk-by-Bosch steadicam shot avoid devolving into flashy self-indulgence. The film balances its intimate moments and epic gestures so beautifully that you'd think this stellar adaptation was single-handedly repenting for the rest of the season's overblown, empty Oscar bait.
Details
Release details
Rated:
R
Duration:
0 mins
Cast and crew
Director:
Joe Wright
Screenwriter:
Christopher Hampton
Cast:
Keira Knightley
James McAvoy
Brenda Blethyn
Romola Garai
Vanessa Redgrave
Saoirse Ronan
Patrick Kennedy
Benedict Cumberbatch
Juno Temple
Harriet Walter
Michelle Duncan
Gina McKee
Daniel Mays
Nonso Anozie

Users say