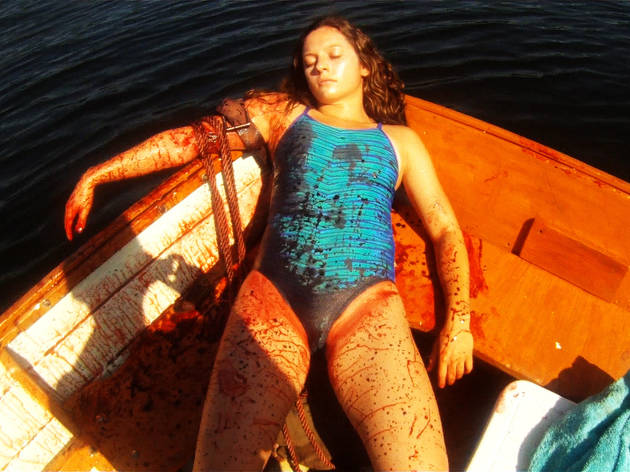 Fans of intelligent low-budget horror need no encouragement to anticipate a new movie by Larry Fessenden, who's done more with less for decades (see The Last Winter). But the writer-director's latest, in which five teens in a rowboat are menaced by a flesh-hungry fish, is really only half a Fessenden movie. Thanks to the script by Tony Daniel and Brian D. Smith (of 2008's Flu Bird Horror "fame," for lack of a better word), this nature-run-amok B picture comes with its own evil twin—one that's an embarrassing assembly of shopworn tropes, played out in inert dialogue by actors less lifelike than their mechanical marine nemesis. From the alpha-male jock to the whiny nerd clutching his omnipresent camcorder, they're a thinly drawn, intensely dislikable bunch who only grow worse once the blood starts flowing.
But the going gets more pleasurable once you realize that's the point. This isn't a movie about people who find inner strength when faced with adversity, but a gleefully dire portrayal of human selfishness in which the rare flashes of altruism only let others gain the upper hand. Although Fessenden does fine work shooting his equivalent of Lifeboat, the movie's surface is often rough. Yet the title doesn't just refer to what lurks in the lake's still water. It's a guide to where Beneath's substance lies, the acid heart inside its plastic chest.
Follow Sam Adams on Twitter: @SamuelAAdams
Release details
Cast and crew
Director:
Larry Fessenden
Cast:
Daniel Zovatto
Chris Conroy
Mackenzie Rosman

Rating Breakdown
5 star:

1

4 star:

0

3 star:

0

2 star:

0

1 star:

0
Insightful review. Agree with much of your assessment of the writing. Think the acting was very good, though; certainly not one note....Spoiler..... Appealing, carefree group first half of the film and then the tone changed dramatically once Deb bled out. Kitty's reaction was heart wrenching. I think all the actors brought enormous tension to the screen when pleading their case to remain.