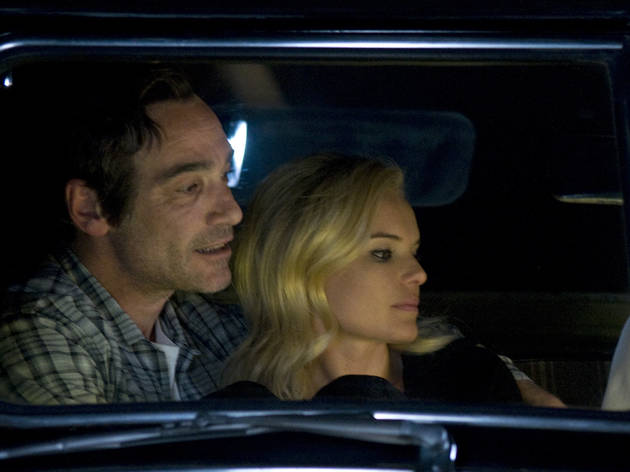 A thinly veiled fictional account of the 40-year-old Jack Kerouac (Jean-Marc Barr) visiting poet and fellow beatnik Lawrence Ferlinghetti (Anthony Edwards) at his woodland cabin in Big Sur, this film adaptation of Kerouac's 1962 novel is an aggressively sketchy affair. That's because, in most instances, director Michael Polish chooses not to dramatize events, but rather to provide montagey glimpses of the action at hand; rapid-fire narrated readings from the book explain what's happening, some of which may be real and others parts aspects of the lead character's delusional nature-and-animal-corpse death fantasies.
Despite his internal-monologue blathering, Barr's counterculture icon comes off as a drunk, smug cipher, ceaselessly droning on about God, the universe and fame. (Just because it's faithful to the source material doesn't make it any less mind-numbing.) Edited to ribbons so that every peripheral player—Kate Bosworth, Radha Mitchell, Josh Lucas, Henry Thomas—is even more one-dimensional than Kerouac himself, it's a work that accurately expresses the awfulness of narcissistic self-destruction, and nothing else.
Follow Nick Schager on Twitter: @nschager
Cast and crew
Director:
Michael Polish
Cast:
Jean-Marc Barr
Kate Bosworth
Anthony Edwards
Josh Lucas
Radha Mitchell
Henry Thomas

Rating Breakdown
5 star:

1

4 star:

0

3 star:

0

2 star:

0

1 star:

0
I liked this movie. However, since it doesn't involve giant CGI robots, one-dimensional heroes and villains and explosions every 23 seconds, a big slice of the illiterate movie going public will probably be either angry or bored with Big Sur. In other words, if you are the type of person who starts to break out into a cold sweat if you are not on your phone every 47 seconds, do yourself a favor and rent AmazingSuperActionHero Part XXXII.

This Nick Schager chap doesn't know what he's talking about. Ignore his ignorant and bitter review here. Big Sur was great and was a kind of marvel. The poetry of Kerouac's Big Sur was captured beautifully by the director Michael Polish. It's a very compelling and original vision. I'm not sure what issues the reviewers of Time Out have, but they often seem to have very strange and resentful grudges against certain people. Case in point is this film. Nick Schager gives Big Sur one star, the lowest possible rating, but will give higher ratings to other absolute dreck from Hollywood. We can assume that the reviewers at Time Out clearly have alliances and deals with some producers and some studios to promote their films and not with others. If you want to read an excellent and fair review of Big Sur, check out Stephen Holden's review of Big Sur from the NY Times dated October 31, from the other day.