Blue Caprice: movie review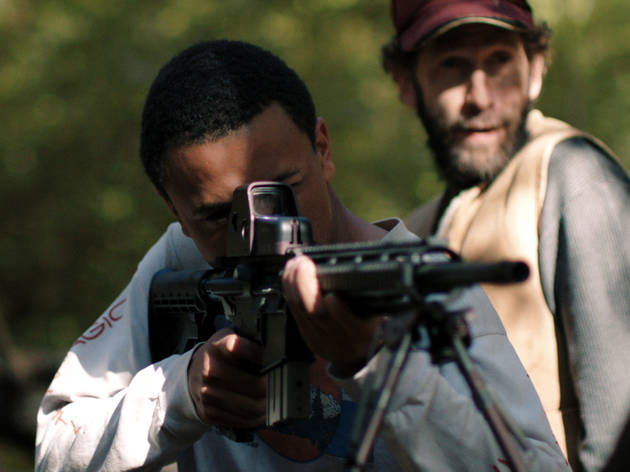 Sirens, the sounds of crying and video footage of cordoned-off crime scenes plunge us into a distinct mood; even if you don't know that Blue Caprice takes place in the frayed-nerve autumn of 2002, you'd figure it out eventually. Alexandre Moors's debut feature takes on more than most seasoned efforts: the subject of domestic terrorism and, provocatively, the crisis of African-American parenthood. You gasp at the ambition. Abandoned Caribbean teenager Lee (Tequan Richmond) falls in with mysterious John (Isaiah Washington), an older man seething with rage. Coming to the U.S. and easing into a pattern of scant talk and abuse—John ties Lee to a tree in the woods—they become the real-life Beltway snipers, taking out strangers with a high-powered rifle.
It's not an easy sit. If Moors leans heavily on his leads (both excellent) to shade the plot with a hint of buried trauma, the overall vibe is way too oblique to amount to a clear comment. It's a movie about the banality of evil that avoids easy answers; we learn how to drill a hidden hole in the hood of a roomy car trunk (converted into a mobile killing range), and see yutzes like John's Army buddy Ray (Tim Blake Nelson) fail to intervene amid the dawning wrongness of it all. Blue Caprice is probably what more post-9/11 cinema should have been: desperate for explanations, inchoate and wrapped in unspoken loneliness. Even though we can stomach it better a decade later, we're still not healed.
Follow Joshua Rothkopf on Twitter: @joshrothkopf
Release details
| | |
| --- | --- |
| Rated: | R |
| Release date: | Friday September 13 2013 |
| Duration: | 0 mins |
Cast and crew
Director:
Alexandre Moors
Screenwriter:
Ronnie Porto
Cast:
Isaiah Washington
Tequan Richmond
Tim Blake Nelson