Blue Jasmine: movie review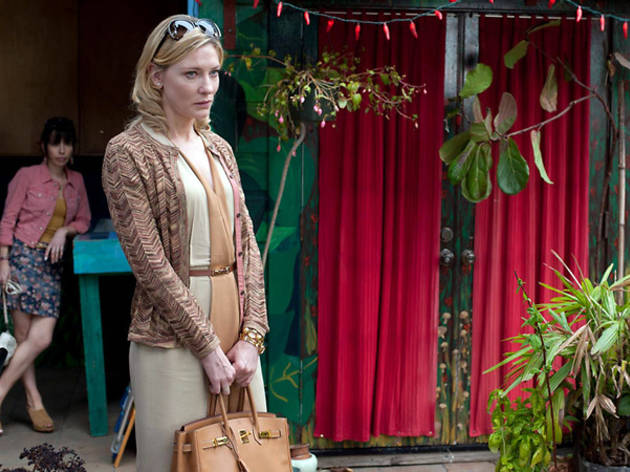 Time Out says
Woody Allen loves his little liars, his self-regarding theater people and swaddled urbanites who, even when pushed up against reality, put on a good show. "Don't speak!" insists glamorous Dianne Wiest in Bullets Over Broadway, railing against John Cusack's love talk but also against any upstaging of her special glow. And in Allen's immortal The Purple Rose of Cairo, the dreamlife of the movies withstands fourth-wall breakage and even a crushed heart; that last shot of Mia Farrow is of someone content to be lost in oblivion.
But has Allen, the most painfully self-aware of American directors, ever allowed his fantasizers to fall on the rocks as ruinously as Cate Blanchett does in Blue Jasmine? I don't think so. (He may not have been capable of doing it until now, with more films behind him than on the horizon.) Blanchett's Jasmine enters the movie arrestingly: a fidgety, elbowy presence on a cross-country flight, chatting the ear off a seatmate about sex and the better things in life. The voice is a conspiratorial purr, desperately in need of a confidant; you wait for the trapped stranger's eye roll, but, almost alarmingly, it becomes clear that this isn't a comedy.
Jasmine, we learn in a toggling flashback structure that also feels fresh to Allen's style, is fleeing the scorched earth of a broken marriage to a Bernie Madoff–like fraud, Hal (Alec Baldwin), a swindler of fortunes. Even as she steps disdainfully through the earthy San Francisco apartment of her half-welcoming sister, Ginger (Sally Hawkins), another of Hal's victims, there's an unwillingness to shed former airs. A vodka bottle on the shelf will help; Allen turns the shot of Jasmine at the liquor station self-medicating into a repeated gag as she settles in for some much-needed "rebuilding."
Can this gala planner and bruncher, a professional recipient of jewelry, commit to computer classes? How it hurts to watch Jasmine try. A job in the office of a dentist (Michael Stuhlbarg, tops in a tricky part) also goes poorly. Allen's sharp script, perhaps the most economically minded of his career, situates an array of naysayers around Jasmine: not just Ginger's ex-husband (a surprisingly deep Andrew Dice Clay), who lost a windfall in the pyramid scheme, but the sister's new boyfriend, Chili (Bobby Cannavale), a doting mechanic who's instantly put off by the interloper's brittle Manhattitude.
It's real Streetcar Named Desire territory as the fights pile up, and if you think that doesn't sound entertaining, know that it is, in a hypnotically catastrophic way. Blanchett's eyes begin to burn with panic (she's never been this agonizing, channeling the ragged edge of Gena Rowlands) as she lashes out at all the "losers," and Allen's material pushes everyone to make terrible choices. The essence of Blue Jasmine feels timely, even years into America's limp rebound from recession: How do we start over, when guilt can't be fully processed and sacrifice is demeaned? Boldly, this isn't a drama that eases into forgiveness or comeuppance; instead, everyone is taken down a peg. Why so cynical, Woodman? We remember Crimes and Misdemeanors (which this film most resembles in tone); now here's a savage prosecution of the 1 percent. It's not the movie anyone could have expected—which is stunning in itself. But maybe the time for sweet self-delusions is through.
Blue Jasmine opens Fri 26.
Follow Joshua Rothkopf on Twitter: @joshrothkopf
Details
Release details
Rated:
PG-13
Duration:
98 mins
Cast and crew
Director:
Woody Allen
Screenwriter:
Woody Allen
Cast:
Cate Blanchett
Peter Sarsgaard
Alec Baldwin
Alden Ehrenreich
Sally Hawkins
Michael Stuhlbarg
Andrew Dice Clay
Louis CK