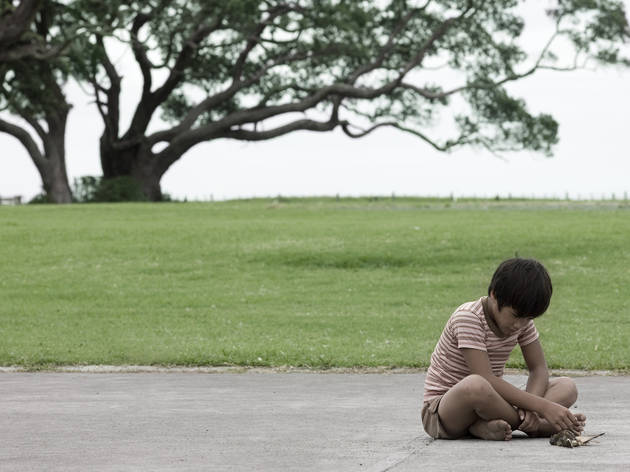 Like millions of kids around the world circa 1984, 11-year-old Boy (Rolleston) is enamored of Michael Jackson, tacking Thriller sketches to his bedroom wall and dancing the moonwalk to impress a pretty girl. Unlike many of his fellow mini-Jackos, however, our prepubescent hero lives in eastern New Zealand with a brood of parentless siblings, where he confides his deep, dark secrets to a donkey. When his ex-convict father (writer-director Waititi) turns up sporting a leather jacket, a hair weave and a Fu Manchu 'stache, Boy is colossally smitten. But when papa turns out to be an erratic manchild---he's fixated on E.T., digs for treasure in the backyard and makes Boy call him "Shogun"---a third act of dad issues and disillusionment quickly ensues.
Further proof that Wes Anderson has overtaken Quentin Tarantino as the world's most mimicked indie auteur, this Kiwi coming-of-age story employs enough quirky costuming, symmetrical framing and sub-Mothersbaugh-scored slo-mo sequences to make Max Fischer blush. Even the decision to make Boy gaga for the King of Pop, initially sold as a character trait, ends up translating as little more than a cheap universalizing ploy. (The film burns screen time on no less than three YouTube-ready pantomimes of MJ videos.) These second-hand stylings deaden what could have been an intriguingly personalized time machine for Waititi, who shot the film in the coastal towns of his youth. Boy needn't be pop-culturally fluent to be relatable; believable human characterizations would have sufficed.
Follow Eric Hynes on Twitter: @eshynes
Watch the trailer
Release details
| | |
| --- | --- |
| Release date: | Friday March 2 2012 |
| Duration: | 88 mins |
Average User Rating
4.5 / 5
Rating Breakdown
5 star:

1

4 star:

1

3 star:

0

2 star:

0

1 star:

0
Donkey indeed. Hairweave? It is not the film but this review that is a superficial and inattentive treatment of its subject.
Ok this reviewer clearly wasn't paying attention to the movie! Donkey? Hairweave? Digging for treasure in the back yard? I loved this movie, in particular the performance of Te Aho Eketone-Whitu (Rocky). Well done Taika Waititi!