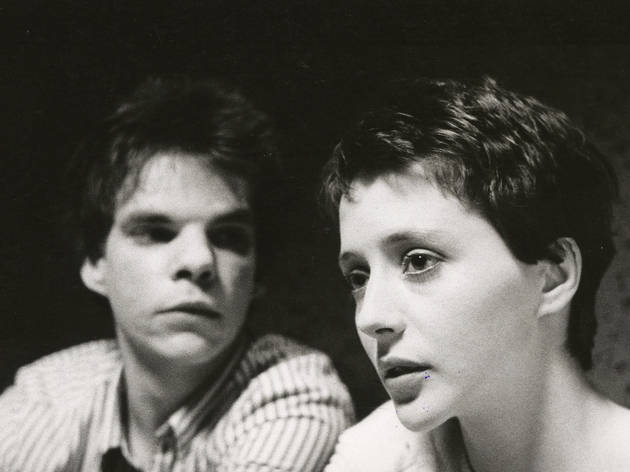 For his extraordinary debut, French firebrand Leos Carax—22 years old at the time of shooting—put his own indelible spin on the tragic-romantic formula. The resulting film's genius blooms especially bright in this new digital restoration, screening for a week at Film Forum.
Carax staple Denis Lavant is the boy, Alex, a moody wanna-be filmmaker decked out in a killer plaid-and-stripes ensemble who's dumped by his exasperated ladyfriend in the opening scene. (She tosses all of his artistic scribblings into the Seine.) Later, sulking through the streets of Paris, Alex happens upon Mireille (Mireille Perrier)—or her voice, anyway. He hears her over an apartment intercom, the Dead Kennedys blaring in the background (one of several inspired needle drops) as her boyfriend breaks off their relationship. Quelle chance!
Carax drew heavily on his own romantic travails and personal disenchantments for the film. It feels, in many ways, like an exorcism—one of those "I had to make this" efforts that allows an artist, full of raw talent, to wrestle his demons, gain a creative foothold and leap on to bigger things. Not that Carax ever really recovered from that restlessness: Scene by scene, you can sense the man who would go on to make such inflamed, caution-to-the-wind features as The Lovers on the Bridge (1991) and Pola X (1999), though Jean-Yves Escoffier's lustrous black-and-white cinematography here tends toward the rigorous. It feels, at times, like Carax is checking himself in ways he wouldn't subsequently: Can I really let my id run this wild?
The director's slight uncertainty creates a fascinating tension that works in Boy Meets Girl's favor. You empathize with the characters' struggles even as they are both kept at a critical distance. Alex wanders wistfully through an otherworldy City of Light, with its surreally empty streets that resemble half-drawn comic panels, while Mireille descends into the depths of her own soul. (She even tap-dances mournfully.) A key early image focuses intently on a room's constellation wallpaper, hinting at the grandly universal, and ineffably fragile, emotions of the characters. When they finally meet face-to-face at a socialite's cocktail party—modeled after the one in the great Pierrot le Fou (1965) by Carax's beloved Jean-Luc Godard—they truly seem like celestial bodies colliding in shared, melancholic ecstasy. Even as tragedy looms, this is a glorious spectacle to behold.
Follow Keith Uhlich on Twitter: @keithuhlich
Release details
| | |
| --- | --- |
| Rated: | N/R |
| Release date: | Friday August 8 2014 |
| Duration: | 100 mins |
Cast and crew
Director:
Léos Carax
Screenwriter:
Léos Carax
Cast:
Maîté Nahyr
Elie Poicard
Christian Cloarec
Carroll Brooks
Denis Lavant
Mireille Perrier