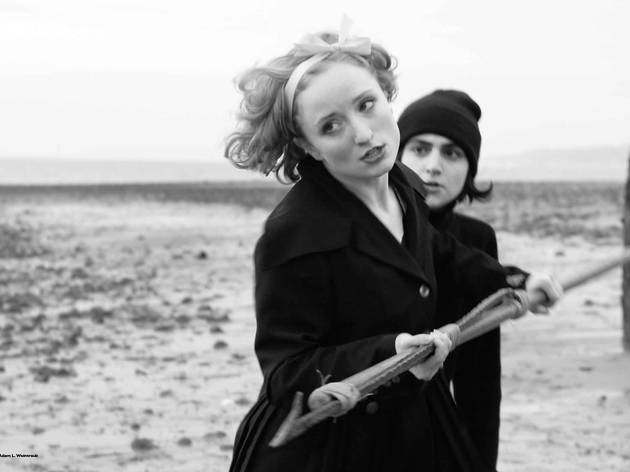 You could say Winnipeg's Guy Maddin essentially makes the same film over and over: a smeary, retro-silent thriller that might plausibly be found in Lon Chaney's basement. When that movie is so much fun, however, it's hard to be a hater. A closer look reveals real sincerity behind the obvious glee; Maddin's
Dracula
:
Pages from a Virgin's Diary
is that tale's best version, dreamily erotic, while his 2000 short "The Heart of the World" is feminist sci-fi in a five-minute package.
So yes:
Brand Upon the Brain!
collects the filmmaker's mock-neurotic tics in a familiar chaptered narrative, one involving spooky experiments in a cellar lab, a vaguely Stevensonian lighthouse—home to two teen siblings (Brown and Lawson) crushing on the same adventurer (Scharhon)—and the dominating squawk of parental intervention. The psychosexual gamesmanship is exactly that—a game—yet Maddin never strays too deeply into irony to risk dismissal. (His cast seems wonderfully committed.)
 The real reason to catch Maddin's latest, though, is the goofiness that will be transpiring directly offscreen: For its first week only,
Brand Upon the Brain!
will be accompanied by a live narrator (scheduled guests include Isabella Rossellini, Justin Bond and Crispin Glover), a small orchestra playing swoony music and a studious team of Foley artists twisting celery stalks in lieu of actual necks. The total impact is a pleasure rarely experienced in theaters these days; gimmick or not, this will certainly feel like a sumptuous evening out. And given the aggressiveness with which Hollywood hopes to net us this summer, that might be enough.
Release details
Cast and crew
Director:
Guy Maddin
Cast:
Sullivan Brown
Maya Lawson
Katherine E. Scharhon