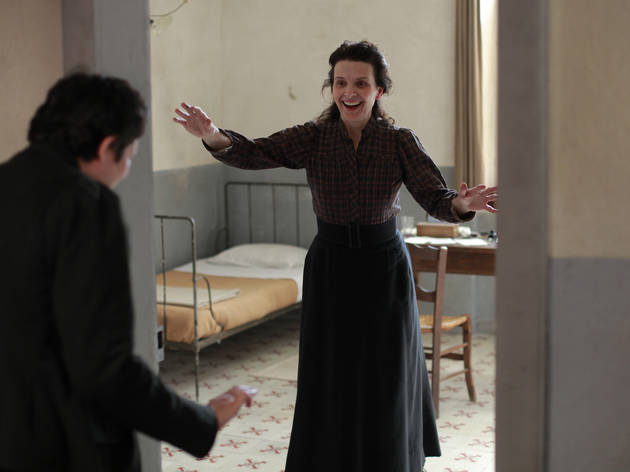 It's just another day for Camille Claudel (Juliette Binoche): early to rise, a forced bath, a meal (self-prepared, since she's paranoid about poisoning), and then hours upon hours of sitting and stewing over the dud hand she's been dealt. She was a sculptor once—a prized pupil of Auguste Rodin. Then she slowly succumbed to schizophrenia, destroying much of her art in the process. Now she's confined to an isolated asylum in Southern France.
Bruno Dumont's grippingly stark drama, adapted from personal letters and medical records, focuses on three days of Claudel's lengthy institutionalization. What minimal drama there is comes from a promised visit by the protagonist's brother, Paul (Jean-Luc Vincent)—a poet, diplomat and devout practicing Catholic. Will he show, and will he finally take his sister away from this place? Mostly, though, the film is content to observe Claudel's banal routine (a walk in the hills; a sit in the courtyard), which taken all together forms a piercing and precise psychological portrait. (It's certainly far removed from the melodramatic 1988 biopic Camille Claudel, starring a hot-blooded Isabelle Adjani.)
This is the first time Dumont has worked with a seasoned actor like Binoche, and her presence makes for an always-intriguing contrast with the otherwise nonprofessional performers, many of whom are actual asylum inmates. Exploitative as this may seem in theory, it works beautifully onscreen, mostly because of Binoche's radiantly complicated humanity. She can turn on a dime from cultivated empathy to woe-is-me disgust, as in a stunning scene in which Claudel observes several of her fellow residents rehearsing a production of Don Juan. You sense that the person the character wants to be is grappling with the one who exists—the troubled woman shaped as much by societal bias as her own mental imbalance. To sculpt the self, it would seem, is the most difficult project of all.
Follow Keith Uhlich on Twitter: @keithuhlich
Release details
| | |
| --- | --- |
| Rated: | R |
| Release date: | Thursday December 21 1989 |
| Duration: | 173 mins |
Cast and crew
Director:
Bruno Dumont
Screenwriter:
Bruno Dumont
Cast:
Juliette Binoche
Jean-Luc Vincent
Marion Keller