Captain Phillips: movie review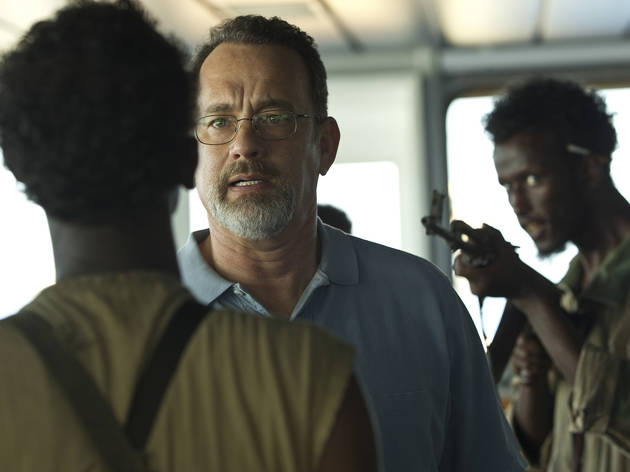 Don't these House Republicans know how hostage stories always end? Just to remind them, here comes a prestige-grade action movie about refusing to negotiate with head-in-the-sand types. Based on the real-life 2009 Maersk Alabama incident, Captain Phillips is a real thank-God-for-the-cavalry film: After Somali pirates board a shipping vessel and seize the American captain as collateral, the U.S. Navy speeds to the scene with little interest in finessing the situation. Zero Dark Thirty handled this kind of frighteningly precise night-scope operation with just the right tone of ominousness. This time, facts dictate an abrupt thud. Narratively speaking, it's a killer.
Which is all one way of saying that Captain Phillips is almost certainly about the wrong guy. As the title character, Tom Hanks does a solid job, especially during the pre-siege bits when his stiff-backed propriety has him frowning at less-than-shipshape conditions: open hatch locks and crew disorderliness. But the underwritten script (by Shattered Glass's Billy Ray) sells him out pretty quickly and you turn to the invading horde for dramatic nourishment. Muse (Barkhad Abdi), the self-appointed new captain, burns brighter—how could he not?—as Hanks's star vehicle tips toward passivity. Compare Hollywood's effort to Denmark's recent A Hijacking, rich with corporate guilt and off-board tensions, and the shortcomings are clear.
Director Paul Greengrass remains a genius of claustrophobia, yet his better films—Bloody Sunday (2002), United 93 (2006) and The Bourne Ultimatum (2007)—all beat with a stronger sense of central identification. He doesn't have as much to work with this time, and his solution is to slow down the pace. The result is more clarity, but also more monotony. Greengrass's heroes are all trapped to some extent, but save one masterful scene of post-traumatic shock (where Hanks earns the lion's share of our sympathy), there's way too much floating around in a tin can.
Follow Joshua Rothkopf on Twitter: @joshrothkopf
Release details
Rated:
PG-13
Release date:
Friday October 11 2013
Duration:
134 mins
Cast and crew
Director:
Paul Greengrass
Screenwriter:
Billy Ray
Cast:
Tom Hanks
Catherine Keener
Max Martini
Barkhad Abdi

Rating Breakdown
5 star:

1

4 star:

0

3 star:

0

2 star:

0

1 star:

0
How about you put aside your white, liberal guilt and realize that not be such a knee-jerk, cartoonish anti-Western, anti-American stooge.
Last par is one reason I refuse to read reviews nowadays. Too many spoilers and semi spoilers. Glad I saw this before JR babbled in highlighting the ending. Ugh.