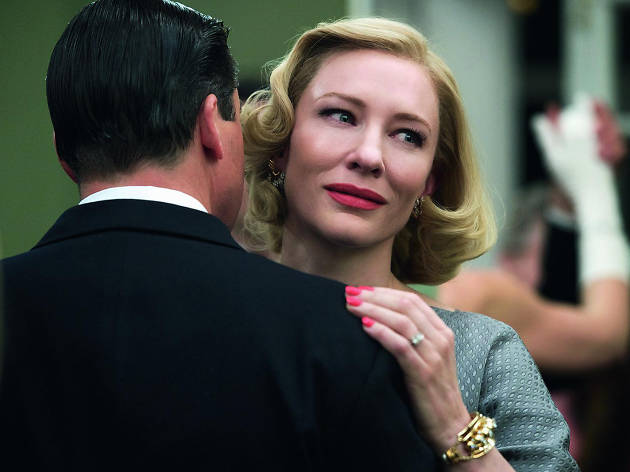 With Carol, director Todd Haynes returns us to a place similar to the repressed 1950s East Coast universe that he explored in his 2002 film Far from Heaven. It's historically not long past, but this is an emotionally oh-so-distant world, recreated here with exquisite craft, where the big city offers a tiny slither of hope to those suffocating in the stultifyingly conservative suburbs. This is the story of two women, Carol (Cate Blanchett, staggering) and Therese (Rooney Mara, equally so), strangers who meet on either side of a Manhattan department-store counter and must choose to face or ignore their feelings for each other as Haynes examines gay desire and repression.
Of course, nobody says the words gay or lesbian in Carol, adapted by Phyllis Nagy from a little-known 1952 Patricia Highsmith novel, The Price of Salt. In fact, no one talks much at all, so hard is it for our main characters to say what they're thinking—or to even know what they're thinking. Head-turning in a glamorous fur coat (Sandy Powell's costumes are a dream), Carol is a suburban wife and mother going through a divorce and, we later learn, on the verge of ostracism by her family and friends because of her past relationship with a woman.
Carol is Christmas shopping when she spots twentysomething Therese, a store worker and aspiring photographer who won't commit to a keen male suitor. The attraction between the two women is immediate and mutual, initially haltingly expressed via the few seconds of a transaction. The pair's subsequent friendship challenges Therese to confront feelings that she may not have even dared to consider before. Not knowing oneself is a refrain: "I barely know what to order for lunch," says Therese. Later she admits, "I don't know what I want—I always say yes to everything."
Gestures, looks and touches carry enormous weight, and Blanchett and Mara invite microscopic readings of their every glance and movement. Much of the film is a loaded dance of desire: When a kiss finally comes, rarely has one been so well-earned. This is a subtle, exquisitely designed drama that's calibrated like an expensive watch, the moving parts working in quiet, unshowy harmony. It's far from melodramatic, even when the plot takes some surprising, eventful turns. And Carol also differs from Far from Heaven in that its careful, beguiling color scheme is muted, leaning heavily on greens and grays and sidestepping brightness. The film moves with a stealthy precision, rarely letting its emotions run over but, crucially, inviting a graceful punch in the air in its choking, triumphant final moments.
Release details
Rated:
R
Release date:
Friday December 18 2015
Duration:
118 mins
Cast and crew
Director:
Todd Haynes
Screenwriter:
Phyllis Nagy
Cast:
Cate Blanchett
Rooney Mara
Kyle Chandler

Average User Rating
3.7 / 5
Rating Breakdown
5 star:

1

4 star:

1

3 star:

0

2 star:

1

1 star:

0
Sorry Highsmith fans but: Be prepared for the slow emptiness of this mundane, overly precious, pointlessly detailed movie.The book was ground-breaking and radical; the movie is strictly conventional and banal.

I adore Cate Blanchett as much as anyone. And no one can say she is not gorgeous. At one point in the film – at a party, her estranged husband concedes to her that she is the most beautiful woman in the room. Well, that never changes. She is the most beautiful and the best dressed and best accessorized and best groomed person in every scene. So, let's all agree to put Cate Blanchett's face in the dictionary under the word Perfection, and then we can all go home and save ourselves two hours of lifeless artifice. And if Cate were selling lipstick, or stockings, or fur coats, I would buy them all. But I would not recommend this movie to anyone.
Remember final season's opening episode of "Mad Men," where Don Draper is trying desperately to find the ideal, alluring model to put in his fur coat ad? Todd Haynes' Cate Blanchett should get that job! She is precisely what Don was looking for – an impossibly beautiful fantasy of aspirational glamour and exquisite opulence. Women want to be her and men want to have her, exactly because she is so flawless and empty; you feel nothing for her or from her as a character – no complicated emotions to ruin the high-gloss facade. And honestly, Cate, you are better than this; you don't need to advertise your quintessential (surface) beauty. That Don Draper gig, and this movie, are beneath you; you can act.

Haynes cares more about his visual style than he does the psychology of his characters. If you want a romantic drama that is both beautiful and touching, go see "Brooklyn" instead.

For more of my Carol review, including "Haynes is no Hitchcock" and "It takes a drag-queen to understand what is wrong with this movie!" plus a comparison to the movie "Brooklyn" go to my blog: http://helenhighly.com/carol-vs-brooklyn-film-review/