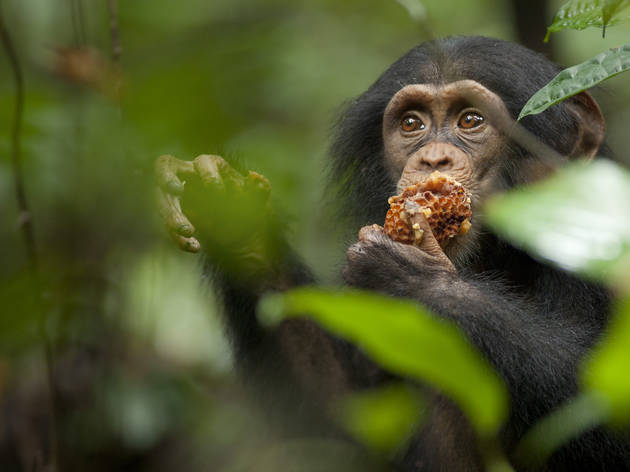 You have to give it up for the good folks at Disneynature: Having resurrected the Mouse House's venerable tradition of outdoors vérité (raise your hand if you remember watching The Living Desert in elementary school), they've turned a new generation on to our big blue marble's myriad of wonders. Youngsters can once again gape and gawk at undersea kingdoms (Oceans), far-flung locations on terra firma (Earth) and beasts in their natural habitat (African Cats, The Crimson Wing), all impeccably photographed and ultra kid-friendly.
Of course, it's possible to be a little too kid-friendly with what are essentially big-screen National Geographic specials, which brings us to Chimpanzee. Disneynature's latest comes with the usual sterling pedigree—directors Alastair Fothergill and Mark Linfield both worked on past DN docs, after respective tenures in the BBC's Natural History Unit—and enough jaw-dropping imagery of Mother Earth's glories (vast mist-tipped jungles, majestic waterfalls, time-lapse growth cycles of exotic plant life) to cure one's atheism. It's also chosen a subject that virtually invites nonstop awws: a baby chimp named Oscar, the community he lives with in the African wild and his search for a post-tragedy parental surrogate.
Still, anthropomorphizing this tale of simian survival for the younger set doesn't justify overdoses of cutesy montages set to neo-swing music or, worse, Tim Allen's Tourette's-like voiceover. Imagine the fourth-funniest kid from your third-grade class cracking jokes in your ear every five seconds, and you'll have a good idea of the annoyance level the comedian's narration provides. (An animal failing to crack open a nut is amusing; making 50 limp wisecracks about it is not.) Even the hyperventilating accounts of chimp-on-chimp hate crimes and dubious moralizing ("Teamwork beats brute force!") seem forgivable compared with Allen's incessant middlebrow riffing—as if kids can't enjoy or appreciate nature without someone supplying stand-up commentary. No one's asking for a somber account of simian life, but perhaps Buzz Lightyear could keep quiet for a bit and let the monkey business speak for itself.
Follow David Fear on Twitter: @davidlfear
Release details
| | |
| --- | --- |
| Rated: | G |
| Release date: | Friday April 20 2012 |
| Duration: | 78 mins |
Cast and crew
| | |
| --- | --- |
| Director: | Alastair Fothergill, Mark Linfield |