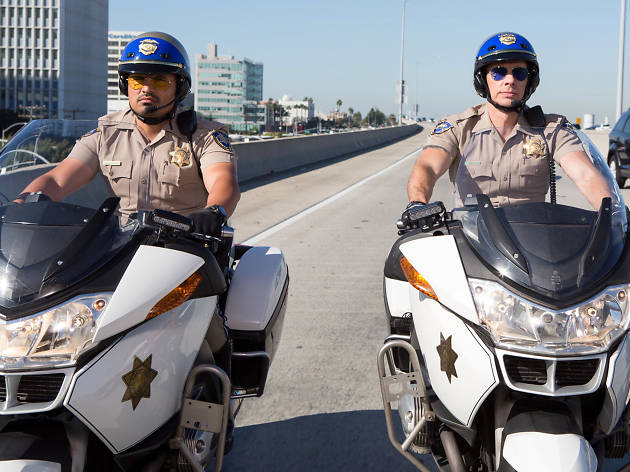 Time Out says
This reboot of the '70s cop show about L.A. highway patrolmen is soul-crushingly unfunny.
This horribly misguided Hollywood "comedy" tries to pull off a 21 Jump Street-style reboot of the dimly remembered late '70s buddy-cop TV series about two mismatched L.A. motorcycle patrolmen. And even if you've never seen the show, the movie version will fill you with fond nostalgia—for your last dentist's visit or that time you stepped on a rusty nail. Essentially for any time before you found yourself in a movie theater watching CHIPS.
There's only one man to blame for this travesty: writer, director and star Dax Shepard, a leathery, low-rent Owen Wilson clone you might vaguely recognize from his supporting performances in Idiocracy and Baby Mama. Here, he's John Baker, a retired motorcycle daredevil who has parlayed his expertise into a new job with the California Highway Patrol. When crack FBI agent Poncharello (Michael Peña) is assigned to pose as Baker's partner and infiltrate a gang of corrupt cops, nervous rookie Baker is thrown neck-deep into the action.
CHIPS is the kind of movie that thinks employing a running gag about homophobia will make it okay to feature a limp-wristed character called Gay Terry. It's a movie that assumes that if you repeat ad nauseam an unfunny joke about ass-licking, it'll magically become hilarious. It's so grotesquely misogynistic, it makes The Hangover look like Thelma & Louise: Every woman on the California police force is either a lust object or so old and ugly that they're only good for a punchline.
Adding insult to injury is the fact that elsewhere, Peña, as an actor, seemed finally to be getting the respect he deserved: His turns in End of Watch and Ant-Man had given free rein to his effortless charm. But it's going to be hard to forgive him for his mugging, grotesque performance here. Once you've watched a guy start screaming mid-masturbation at the realization that he's accidentally sex-chatting with an older woman, nothing can ever be the same.
Details
Release details
Rated:
R
Release date:
Friday March 24 2017
Duration:
100 mins
Cast and crew
Director:
Dax Shepard
Screenwriter:
Dax Shepard
Cast:
Dax Shepard
Michael Peña
Adam Brody

Users say