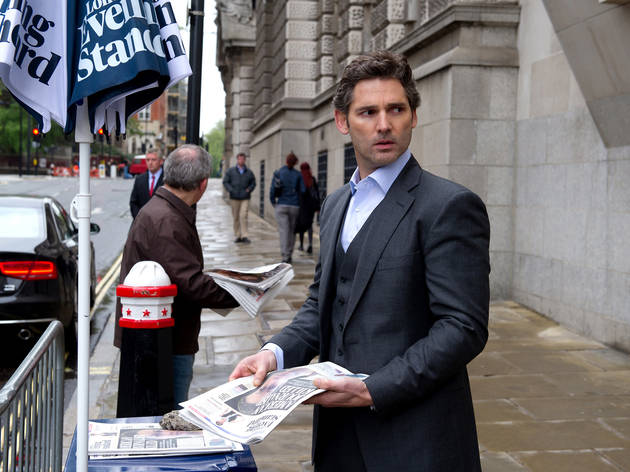 Finally, an Adam's Rib for the NSA era! After a bomb explodes in a public square in London and a Middle Eastern man is arrested, two lawyers are brought in as part of a state-appointed defense team. One is the dashing, perpetually rowing-in-the-Thames barrister Martin Rose (Eric Bana); the other is the lovely, leggy legal eagle Claudia Simmons-Howe (Rebecca Hall). The fact that they're former lovers is something the attorney general (Jim Broadbent) would like them to keep mum about, as this high-profile terrorism case is designed to be a conflict-free PR coup for the British government's judicial impartiality—despite Claudia's access to information that can't be shared with her client, her colleague or anyone in open court. And while they're on the same team, that doesn't stop the two from bickering like old married couple as they sift through documents, or Martin from feeling like something is a little fishy in the rush to judgment. (Spoiler alert: He's not wrong.)
Old-school intrigue, informants and assassins, life-or-death pursuits in crowded places, characters who are adults and do not wear capes or pilot robots: This is pretty much what any filmgoer over the age of 13 pines for in the dog days of summer, so this courtroom melodrama/surveillance thriller should be manna. Indeed, though Bana and Hall are no William Powell and Myrna Loy, the stars' stiff-upper-lip update on the couple-in-danger routine (as well as Riz Ahmed's take on the charming "handler" who isn't who he appears to be, etc.) may make you wistful for the days when vintage Hollywood potboilers would specialize in this exact type of pleasure.
If only Boy A director John Crowley had a facility for either high-stakes suspense or slow-burn romantic interplay, or screenwriter Steven Knight (Dirty Pretty Things) didn't traffic in dialogue in which one person endlessly explains to another what's just happened, we might have ourselves something more than a passable stroll through today's techno-paranoia terrorism-sploitation landscape, U.K. division. Viewers will have to be content with an occasionally taut conspiracy movie that's equal parts hyperintelligent and inane, headline-based pulpy and academically chilly—the equivalent of an overwritten airport novel left on ice.
Follow David Fear on Twitter: @davidlfear
Release details
| | |
| --- | --- |
| Rated: | R |
| Release date: | Wednesday August 28 2013 |
| Duration: | 96 mins |
Cast and crew
Director:
John Crowley
Screenwriter:
Steven Knight
Cast:
Eric Bana
Rebecca Hall
Jim Broadbent
Ciarán Hinds
Julia Stiles
Riz Ahmed