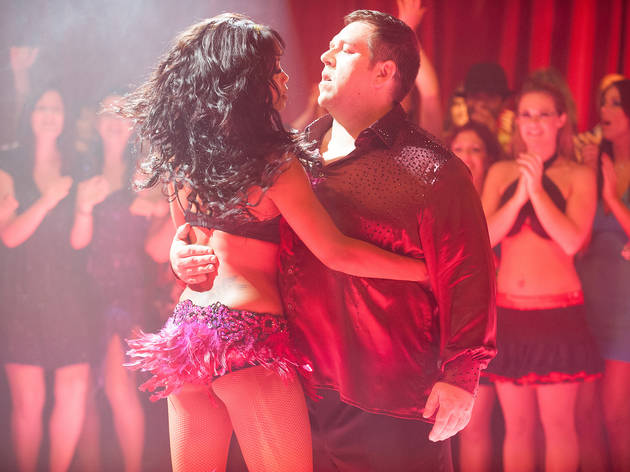 As film pitches go, "Nick Frost and Rashida Jones in a romantic comedy about salsa-mad industrial engineers" sounds like it was hatched during a strenuous game of stringing random words together. James Griffiths's amiable but flat-footed feature debut sometimes plays that way, too, counting on its supergame cast to feel their way through a script that, however cute in concept, is surprisingly short on clear punch lines. They do their disarming best, but the gags elicit more smiles than laughs.
Frost (The World's End) plays Bruce, a doleful, tubby office drone whose social life is limited to hanging with equally pathetic golfing buddies and his tiki-bar-waitress sister, Sam (Olivia Colman, lovable in a Carmen Miranda getup). You'd never guess that our hero was a teenage salsa-dancing champion, until bullying peers drove him to abandon his passion. He's practically forgotten it, really, until his beguiling new boss (Jones) turns out to be a bit of a hoofer herself.
All of which makes for the basis of a pretty straightforward wallflower-does-good story, with Chris O'Dowd a welcome sideshow as Bruce's obnoxious alpha-male rival. Well, he's supposedly obnoxious; it's hard not to feel that the more dynamic leading man is taking the secondary role here.
Release details
| | |
| --- | --- |
| Rated: | R |
| Release date: | Friday April 11 2014 |
| Duration: | 98 mins |
Cast and crew
Director:
James Griffiths
Screenwriter:
Jon Brown
Cast:
Rashida Jones
Chris O'Dowd
Ian McShane
Nick Frost
Alexandra Roach
Olivia Colman
Rory Kinnear