Dallas Buyers Club: movie review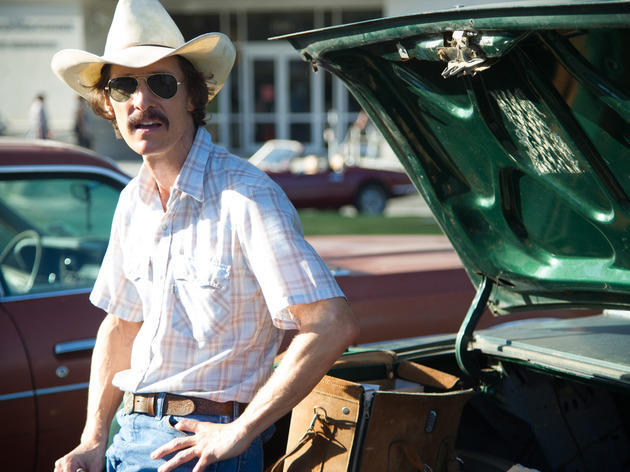 It's getting difficult (enjoyably so) to keep track of the many shades of guff Matthew McConaughey seems hell-bent on exploring these days. Conveniently—and a touch calculatingly—they're all on display in the stirring Dallas Buyers Club, a one-stop shop of the actor's newfound fluidity. He starts off desperate and rascally, hopping rodeo fences to escape gambling debts. It's a bleak, sunbaked 1986 and Ron Woodroof (McConaughey), a bottom-scraping drug addict, is about to hear the death sentence of an HIV-positive diagnosis. Out of the man comes a volley of homophobic vitriol and then, tapping into the star's inviolable gift for comic timing, there's an unlikely trip to the public library, where some disheartening medical research provokes a scruffy rage explosion against the shushers.
Only 20 minutes in and you're not going to think of another lead who could pull off this kind of reckoning—tangy, furious and about to become whip-smart. The story is a real-life one: Woodroof shocked local doctors not only by surviving many more years, but also by evolving into an illegal drug importer, a well-heeled operator and a provider of hope. Dallas Buyers Club fits our Breaking Bad moment perfectly, offering a difficult hero whose personal code takes on an intriguing coherence. "I like your style, Hiroshi," McConaughey coos to a Japanese supplier, the movie arriving at its brainy peak.
Working from a script by Craig Borten and Melisa Wallack that sometimes feels button-pushy, Quebecois director Jean-Marc Vallée expands the drama in a warm, Demme-like direction, lacing Woodroof's loose-limbed entrepreneurship with a strain of communal American grit. Jennifer Garner's by-the-book M.D. and Jared Leto's flamboyant business partner might have felt like mere devices had their scenes with McConaughey not pushed the plot toward feisty complications.
Woodroof himself probably wouldn't call it a mission, but that's the special takeaway of this film, about how a higher purpose can sneak up on a shit-kicker in shades. He's reborn, ennobled by a crisis and in love with his new vocabulary. The change is both modest and monumental; we should all be so lucky as to have one.
Follow Joshua Rothkopf on Twitter: @joshrothkopf
Release details
Rated:
R
Duration:
117 mins
Cast and crew
Director:
Jean-Marc Vallée
Cast:
Matthew McConaughey
Jennifer Garner
Jared Leto