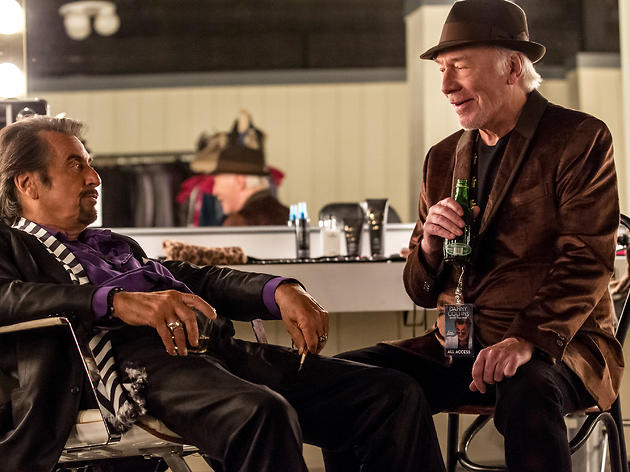 Al Pacino's done so much Acting over the last 25 years (hoo-ah), it's disquieting to see him digging deep again—often with subtlety—into a rich role with hidden depths. Granted, the title character of Dan Fogelman's press-the-reset-button drama isn't exactly a wallflower: After a funny 1971 introduction in which we see a young, petrified folksinger getting interviewed for a rock magazine, we cut to present day, when paunchy Danny Collins (Pacino) is a Neil Diamond–like icon about to release his third greatest-hits collection and still crooning his big sing-along, "Hey, Baby Doll," to an audience of screaming grandmas.
The part is perfect for Pacino, a performer who, despite his genius, hasn't been able to shake off a certain dead-eyed exhaustion lately (even when it's uncalled for). Danny has a palatial home and a gold-digging girlfriend half his age, but he's a zombie at his own surprise birthday party until his devoted longtime manager (Christopher Plummer, excellent) gives him a framed letter from John Lennon, who, unknown to Danny, tried to reach out to him in his youthful moment of fear (a real-life story for English songwriter Steve Tilston). Chastened, Danny sets out to rediscover his passion in a slightly cutesy plot scored to several late-period Lennon songs—though not, curiously, "Starting Over."
For most of its running time, Danny Collins settles into a suburban New Jersey Hilton. Nearby, there's an estranged grown-up son to reconnect with (Bobby Cannavale, stealing the film with his gruff sincerity), not to mention a chirpy desk manager (Annette Bening) who might be an "age-appropriate" love interest in our hero's de-cynicizing words. You think you know where this is going, but it's a pleasure to see Fogelman slow down the flow for his two erstwhile Ricky Romas, kicking around life's harsh turns with tenderness.
Follow Joshua Rothkopf on Twitter: @joshrothkopf
Release details
Rated:
R
Release date:
Friday March 20 2015
Duration:
106 mins
Cast and crew
Director:
Dan Fogelman
Screenwriter:
Dan Fogelman
Cast:
Melissa Benoist
Al Pacino
Jennifer Garner
Christopher Plummer
Bobby Cannavale