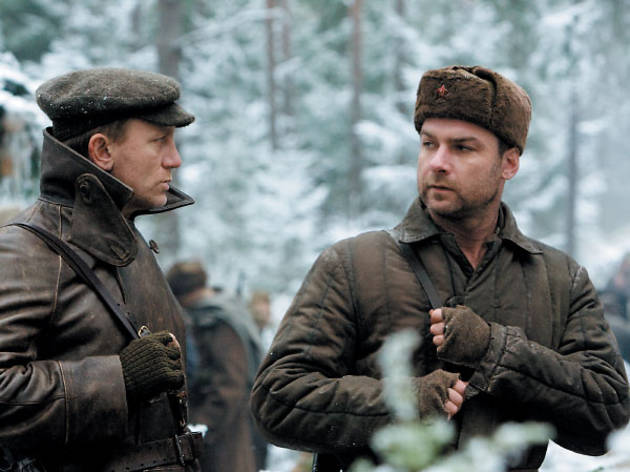 Daniel Craig, blue eyes flaring in all his badassedness, sits atop a white horse. It's the middle of the forest. Dozens of smudge-faced people stare up at him, agog. For all intents and purposes, he's their Robin Hood. Here, in the woods, he tells them, there will be food, shelter, freedom from the Germans. (It's World War II.) All will work. All will thrive. A young girl looks up and asks an adult, "He is a Jew?" The answer, as the violins swell: "Yes."
Defiance is a pageant—big, sloppy and unapologetic. Like Steven Spielberg's Munich, it's part of the new Hebrews-kicking-ass subgenre, and even though we're currently in a moment saturated with Holocaust hand-wringing (The Reader, The Boy in the Striped Pajamas), Defiance actually feels like the most conventionally satisfying of the lot. The movie's events are from real life, namely the exploits of the Bielski brothers, a trio of hardscrabble Belarusan Jews who protected hundreds of refugees within the confines of a mobile, makeshift community. "Our revenge will be…to leef!" declares Tuvia (Craig); because their director is Oscar-hound Edward Zwick, the English-speaking actors take on silly shtetl accents and speak Russian too.
But these trappings are just the gravy. The meat is Liev Schreiber, as the even-tougher Bielski sib, Zus, tearing out of the trees with machine guns blazing, like Rambo with a yarmulke. He takes out Nazis by the battalion, and sternly confronts his louche Soviet comrades about their anti-Semitic remarks. (The character is beyond awesome.) Defiance is history made over into wish-fulfillment psychodrama, into Exodus. It's stuck in my head, as only a wet-dog-nosed movie can, and I feel like adding more stars.
Release details
| | |
| --- | --- |
| Rated: | R |
| Release date: | Friday January 2 2009 |
| Duration: | 137 mins |
Cast and crew
Director:
Edward Zwick
Screenwriter:
Edward Zwick, Clayton Frohman
Cast:
Jamie Bell
Mark Feuerstein
Daniel Craig
Mia Wasikowska
Allan Corduner
Liev Schreiber
Jodhi May
Iben Hjejle
Alexa Davalos