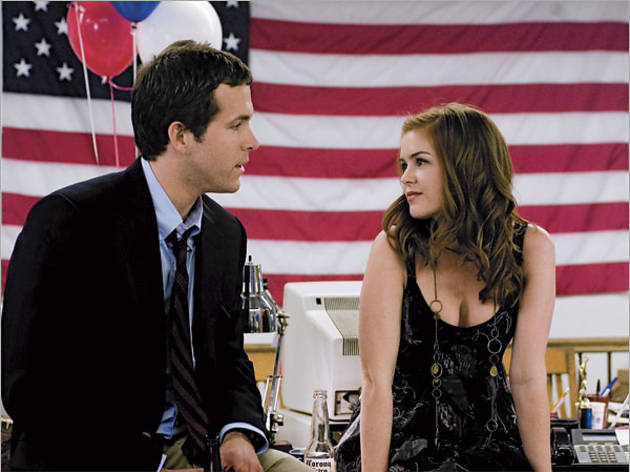 Two other adverbs will come to mind after you see this: never again. Films released as tie-ins with obscenely commercialized "holidays" are rarely any good, and this Valentine's Day destination is no exception. What makes Definitely, Maybe all the more excruciating is the desperate attempt to launch bland beefcake Ryan Reynolds into A-list stardom.
As ad exec Will Hayes, Reynolds recounts to his daughter, Maya (Breslin), how he met her mother (and his soon-to-be ex-wife). This leads to the recapitulation of three romances: with his college sweetheart Emily (Banks) and two women he met shortly after arriving in New York City in 1992 to work on the Bill Clinton campaign, Nirvana lover April (Fisher) and workaholic journo Summer (Weisz).
Footage of Clinton's disastrous gaffes pops up throughout the film; just as Slick Willie had trouble parsing is after the Lewinsky scandal, writer-director Adam Brooks grapples with the definition of romantic comedy, whose main tenet is battle between the sexes. But there are no equals here: As the satellites around Reynolds the sun god, Banks, Fisher and Weisz—all excellent performers—must downplay their gifts in deference to the limited talents of their leading man.
Last summer's The Nines frequently featured Reynolds without his shirt, showing off his major asset. Fully clothed throughout Definitely, Maybe, the star finds his greatest challenge in keeping up with Breslin, whose cuteness in Little Miss Sunshine and No Reservations has finally tipped over to aggressive cloyingness. In the end, the only intersex conflict is that between a 31-year-old dim hunk and an 11-year-old moppet fighting for fame. How romantic.
Release details
Release date:
Thursday February 14 2008
Duration:
112 mins
Cast and crew
Director:
Adam Brooks
Screenwriter:
Adam Brooks
Cast:
Ryan Reynolds
Isla Fisher
Elizabeth Banks
Rachel Weisz
Derek Luke