Delivery Man: movie review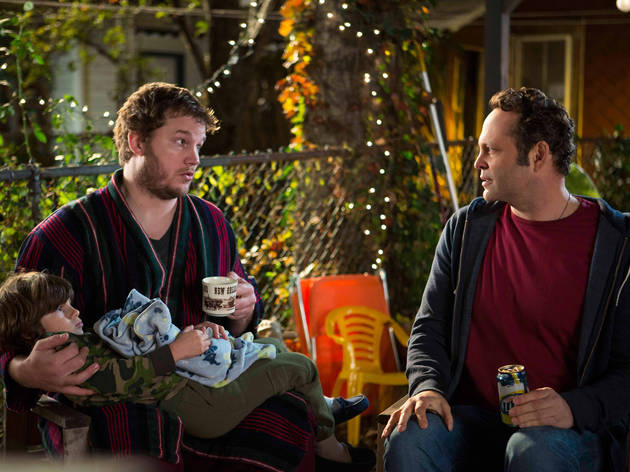 David Wozniak (Vince Vaughn) is a meat-truck driver who's invested more in get-rich-quick schemes than his romantic relationships. Mr. Emotional Immaturity suddenly finds out he's a father—142 times over, to be precise—thanks to sperm he donated two decades previously. With a legion of artificially inseminated offspring suing to learn his identity and his fed-up girlfriend (Cobie Smulders) newly preggers, David finds adult responsibilities looming everywhere he turns. So he does what every guy in his situation would do: tracks down his children one at a time, giving each of their lives a push (or, sometimes, a brusque shove) in the right direction. Does he learn something from each of them? You don't need 142 guesses to get that one right.
Growing up isn't easy—for men or movie stars. Vaughn seems to be struggling to shed the amiable dude-bro mantle he's worn to diminishing returns since 2005's Wedding Crashers; even he seems tired of his shtick, especially when he feigns not speaking English to avoid a difficult conversation. (No need to revise those famous-movie-quotes lists to make room for "Yo no soy David Wozniak.") But if this remake of 2011's French-Canadian hit Starbuck feels as if it's just going through the motions, Vaughn himself radiates sincerity and good intention. The actor doesn't get it right this time, but he's earned himself another chance.
Follow Sam Adams on Twitter: @SamuelAAdams
Release details
| | |
| --- | --- |
| Rated: | PG-13 |
| Release date: | Friday November 22 2013 |
| Duration: | 105 mins |
Cast and crew
Director:
Ken Scott
Screenwriter:
Ken Scott
Cast:
Chris Pratt
Britt Robertson
Cobie Smulders
Vince Vaughn