Despicable Me 2: movie review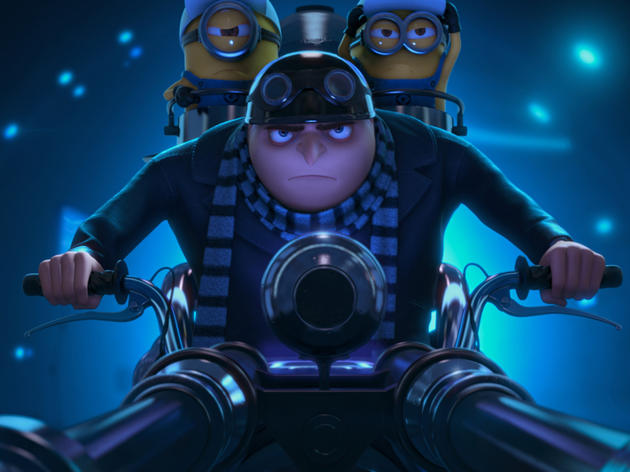 Single parent Gru (Steve Carell) is adjusting nicely to fatherhood and domesticity—not bad for a former supervillain who once tried to steal the moon for his own nefarious ends. Now he dotes over his three adopted daughters—Margo, Edith and Agnes—while concocting a new jelly recipe with his gibberish-speaking Minions (they of the yellow skin and varying number of eyes). But then the crime-fighting Anti-Villain League comes calling: Seems there's a new anonymous bad guy in town, and Gru, along with fetching fellow agent Lucy (Kristen Wiig), are the best candidates to stop him or her.
A fleeter film than its predecessor, Despicable Me 2 delights more often than it disappoints. With Gru's unctuously irritable personality already established, codirectors Pierre Coffin and Chris Renaud let their loony imaginations run wild: Where else will you find a movie that references the point-and-scream alien call from the 1978 Invasion of the Body Snatchers while also making room for a hilarious Minions-performed rendition of "I Swear"? The gags take precedence over the perfunctory plot, and the overarching theme about Gru and his girls' search for a mother figure is too undercooked. But Carell and Wiig make a splendid vocal pair—Nick and Nora Charles with ice guns and lipstick Tasers—and the candy-colored 3-D animation is always enthralling, whether Gru is presiding over a birthday party gone awry or fighting back a horde of hairy purple monsters with a taste for, well, anything in their path. All this and a (sorta) Village People cameo, too? Not so despicable after all.
Follow Keith Uhlich on Twitter: @keithuhlich
Release details
Rated:
PG
Release date:
Wednesday July 3 2013
Duration:
98 mins
Cast and crew
Director:
Pierre Coffin, Chris Renaud