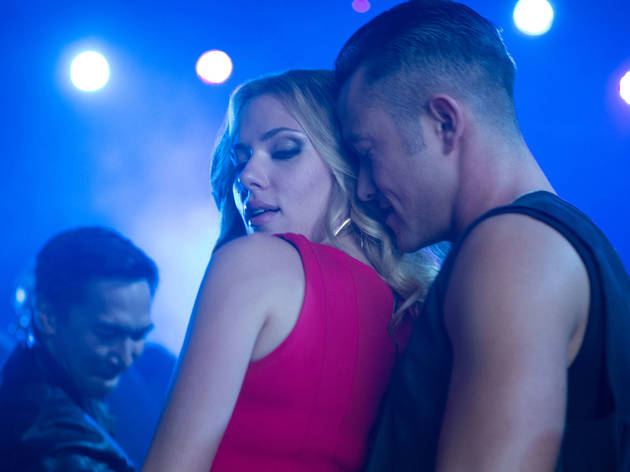 Time Out says
Blustery Jersey guy Jon Martello (Joseph Gordon-Levitt) is obsessed with his physique, dedicated to his friends and family, and the very definition of a chick magnet. (He isn't nicknamed "Don Jon" for nothing.) He's also addicted to what the easily offended old biddies among us would call "dirty movies." Yes, Don Jon really likes his porn, to the point that genuine human interaction seems like an obligatory distraction between smut-assisted orgasms. Then he meets Barbara Sugarman (Scarlett Johansson), his seeming ideal, cut from the mold of Snooki and JWoww. She's ready to settle down, he thinks he is too, but his online-erotica dependence is likely to put a crimp in their fairy-tale romance.
As with many a first feature, Gordon-Levitt's so-so directorial debut is pumped up with ambition. The early scenes, heavy on caricature, promise to puncture much of the cocky illusions surrounding modern relationships. Don Jon's suffocating clan—very nicely played in an exaggerated, when-ya-gonna-marry-a-nice-goil? register by Tony Danza, Glenne Headley and Brie Larson—could have stepped out of an R. Crumb comic. There's also a funny scene in which our macho hero and his ladylove go to a screening of a bullshit Hollywood romantic comedy (star cameos abound) that they proceed to deconstruct from their very specific points of view.
But then Gordon-Levitt introduces Julianne Moore's fragile Esther, who Don Jon befriends in a college night class. Meant as the conduit between the film's stylized satirical surface and its more complicated undercurrents, this damaged older woman instead comes off as a fantasy of a different sort—the flawed mother figure who will show our cartoon hero what it means to really connect with someone, sexually and otherwise. She's the (un-)Virgin Mary to his babe in the virtual woods, and as much of a contrived construction as any of the bootylicious babes the film ultimately views, with rather off-putting contempt, as figures for all truly grown men to rebuff. Don Jon—and Don Jon—merely ends up trading one beefcake delusion for another.
Follow Keith Uhlich on Twitter: @keithuhlich
Details
Release details
Rated:
R
Release date:
Friday September 27 2013
Duration:
89 mins
Cast and crew
Director:
Joseph Gordon-Levitt
Screenwriter:
Joseph Gordon-Levitt
Cast:
Scarlett Johansson
Julianne Moore
Joseph Gordon-Levitt
Glenne Headley
Brie Larson