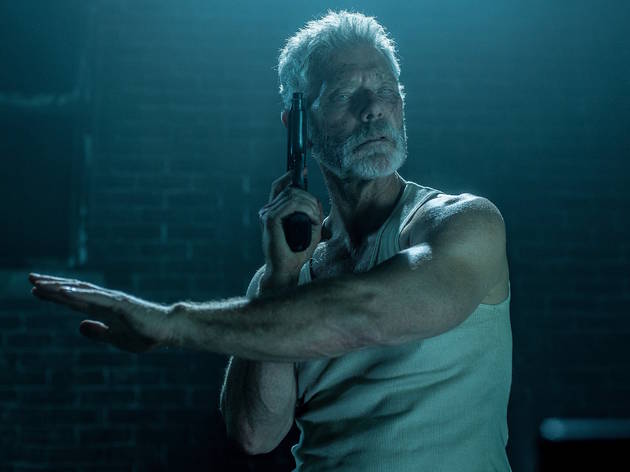 Time Out says
As this grungy, violent thriller proves, old-school suspense (with a minimum of yapping) never goes out of style.
Nobody's sent Uruguay's Fede Alvarez, a horror director with sick '70s-style instincts, the memo about toning it down. Gleefully, he presses on, as if "torture porn" were still a thing, not something half-remembered from the Dubya years. Don't Breathe, Alvarez's latest, could have been as big as Saw or Hostel if it came out 10 years ago.
Actually, it still might be pretty big, but if that happens, brace yourself for the multiplex to get mean again. In Alvarez's smarter-than-it-had-to-be script (cowritten with his longtime colleague Rodo Sayagues), three twentysomethings scrape out dead-end thrills in burned-out Detroit, the modern-day haunted house from movies like Jim Jarmusch's Only Lovers Left Alive.
They break into houses and steal stuff, sort of like a low-budget variation on Hollywood's Bling Ring. There's impulsive Money (Daniel Zovatto), intense Alex (Dylan Minnette), and Rocky (Jane Levy), the bleach-blond gal pal you can already tell is tougher than all of them. When they learn about a local blind man who has a big cash settlement in a safe, they descend on his home one night.
Don't Breathe sets us up to hate these kids intensely, so when the Blind Man (that's actually how he's credited onscreen) turns out to be a resourceful war veteran, the movie becomes a game of retribution on a generation that should know better. (Stage actor Stephen Lang somehow manages to make his ears expressive, leaning into every creak.)
Alvarez quiets his movie down to a game of cat and mouse, a luxury in a climate in which horror is all about maximum volume. He has one too many twists, including a reversal that's too nauseating to type, but for 
the most part, you're in the hands of a capable lunatic who has a tale to tell.
Follow Joshua Rothkopf on Twitter: @joshrothkopf
Details
Release details
Rated:
R
Release date:
Friday August 26 2016
Duration:
88 mins
Cast and crew
Director:
Fede Alvarez
Screenwriter:
Rodo Sayagues, Fede Alvarez
Cast:
Dylan Minnette
Stephen Lang
Daniel Zovatto
Jane Levy

Users say