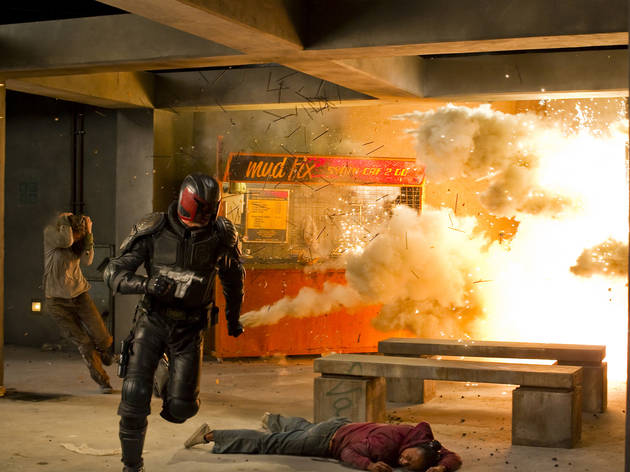 John Wagner and Carlos Ezquerra's popular dystopian comic-book character finally gets the movie adaptation he deserves with this unapologetically violent 3-D action feature. A crisp prelude introduces the stunning postapocalyptic setting—a crime-ridden American megalopolis several states long—and our perpetually helmeted antihero (Karl Urban). Dredd is one of numerous "judges" with the power to capture, sentence and execute those who break the law, and today seems like any other day, until he's paired with a psychic rookie named Anderson (Olivia Thirlby).
The futuristic cop's green protége leads them to a slum tower lorded over by the vicious Ma-Ma (Headey), who is peddling a senses-altering drug called Slo-Mo. What follows will be familiar to anyone who's seen the recent martial-arts bone-breaker The Raid: Redemption, as Dredd and Anderson fight their way through bullets and baddies to reach the big boss woman. But plot similarity or not, there's genuine artistry behind the film's video-game goals. The impressively lean script by Alex Garland (28 Days Later) is shorn of almost all superfluity beyond a few dud Schwarzeneggeresque kiss-offs, while Anthony Dod Mantle's sensational widescreen cinematography harkens back to the tension-inducing inventiveness of early John Carpenter (the added dimension is put to terrific use, whether in sinewy close-up or 100-story-drop long shot). And Urban gives the best "all mouth" performance since the Rocky Horror lips, sneering with seen-it-all gruffness and intoning Dredd's trademark catchphrase—"I am the law"—with the kind of B-movie-inflected soulfulness that feels damn-near profound. We're a long way from Sly Stallone and Rob Schneider here.
Follow Keith Uhlich on Twitter: @keithuhlich
Release details
| | |
| --- | --- |
| Rated: | R |
| Release date: | Friday September 21 2012 |
| Duration: | 95 mins |
Cast and crew
Director:
Pete Travis
Screenwriter:
Alex Garland, Carlos Roffe
Cast:
Karl Urban
Lena Headey
Olivia Thirlby
Domhnall Gleeson

Average User Rating
4.5 / 5
Rating Breakdown
5 star:

1

4 star:

1

3 star:

0

2 star:

0

1 star:

0
The best action film of the year. Loved it - fast moving, makes excellent use of 3D, well acted. It doesn't pander to the audience and gives viewers credit for some intelligence. The plot is not too complex, but given the nature of the characters and the setting, that's probably just as well or we'd be thrown. It's dark, dystopian, violent and utterly compelling. The best movie you haven't seen.
Regarding comparisons to The Raid, to be fair to Dredd, its screenplay was written and leaked onto the internet before The Raid.