Enough Said: movie review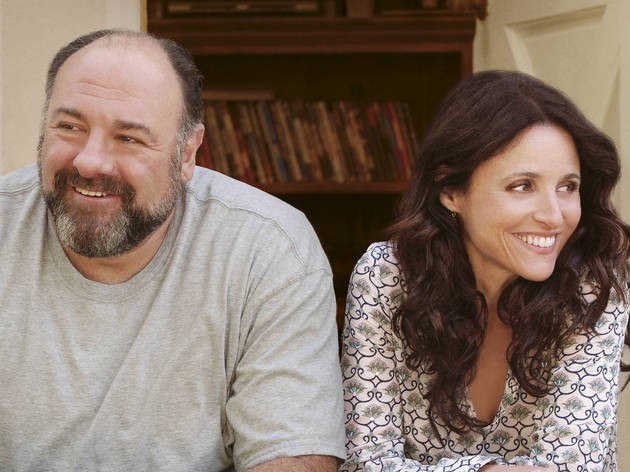 Time Out says
There's a point in every Nicole Holofcener movie, or at least the good ones, at which her technical limitations—the haphazard framing, the shots that don't quite fit together—fall away, and you're face-to-face with her sharply drawn, tragicomically flawed characters. In the writer-director's latest, that primarily means Eva (Julia Louis-Dreyfus), a high-strung massage therapist and divorced mother who's mostly abandoned the dating game. But when she and fellow single parent Albert (James Gandolfini, in his final role) proclaim their mutual unattraction to every guest at a party, the tiniest of sparks begin to fly.
With their respective daughters heading off to college, these two middle-aged Angelenos are facing true solitude, in all its loneliness and freedom, for the first time in decades; they've each been granted a new beginning whether they want one or not. They backpedal in their various ways—Albert curates classic TV shows for a living; Eva latches onto her teen daughter's best friend—while she gets conflicting counsel from a shrink (Toni Collette) and a poet (Catherine Keener).
Louis-Dreyfus seems too antic at times for Holofcener's laid-back world—Jennifer Aniston at least had camouflage as part of Friends with Money's ensemble—but Gandolfini's bearish charm and lumbering sadness are irresistible. While most film romances feel like a fait accompli, Enough Said's tentative fumblings toward bliss require, and merit, fighting for; its wanderings are never less than pleasant and its final moments pack surprising emotional power.
Follow Sam Adams on Twitter: @SamuelAAdams
Details
Release details
Rated:
PG-13
Release date:
Wednesday September 18 2013
Duration:
93 mins
Cast and crew
Director:
Nicole Holofcener
Screenwriter:
Nicole Holofcener
Cast:
Julia Louis-Dreyfus
James Gandolfini
Toni Collette
Catherine Keener

Users say