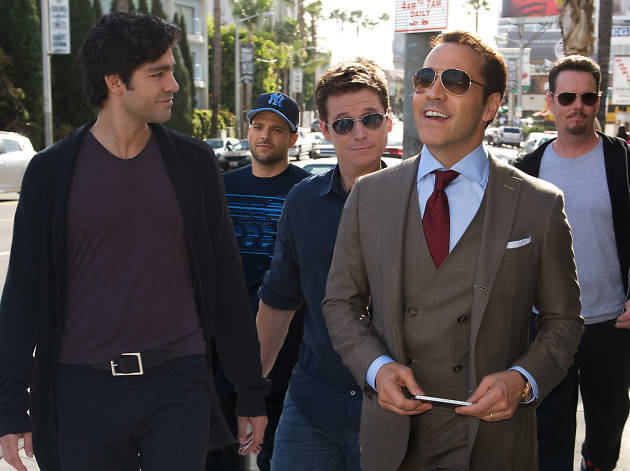 Once upon a time, in a magical place known as 2004, the saga of rising Hollywood star Vincent Chase (Adrian Grenier) and the trio of chauvinistic half-wits who clung to his coattails was able to blossom into a fable about how loyalty breeds success. In 2015, however, bros only come before hos alphabetically, and what once felt like an innocent tale of wish fulfillment now plays like the masturbatory fantasy of a men's-rights activist.
The worst thing to happen to Hollywood since San Andreas, the Entourage movie naturally begins in Ibiza, where Vince stands on the bow of a yacht and contemplates the emptiness of his own existence like a lobotomized Don Draper. Then, an epiphany: Vince wants to direct. Lucky for him, his fire-breathing former agent Ari Gold (Piven) is now the head of a major studio, and the only executive in town dumb enough to finance a $100 million reimagining of Jekyll and Hyde in which the hero's chemically induced alter ego is a gun-toting DJ.
Still, the film Ari and Vince are trying to make isn't half as asinine as the one they're already in. So transparently just a bloated episode of the show that it blares the series' theme song over the opening credits (brace yourself for the sick realization that it has a second verse), Entourage can't muster enough conflict for a podcast, let alone a feature. Of all the witless subplots it mushes together, the most substantial is a glorified advertisement for "Blurred Lines" starlet Emily Ratajkowski, who plays herself as Vince's latest disposable conquest. Meanwhile, a scene in which Vince's manager is punished for treating women like things provides the movie's least sincere moment—no small feat in a Hollywood satire so cartoonish it makes Who Framed Roger Rabbit? look like a documentary.
Follow David Ehrlich on Twitter: @davidehrlich
Release details
Rated:
R
Release date:
Friday June 5 2015
Duration:
104 mins
Cast and crew
Director:
Doug Ellin
Screenwriter:
Doug Ellin
Cast:
Mark Wahlberg
Emily Ratajkowski
Haley Joel Osment
Adrian Grenier
Jeremy Piven
Kevin Connolly