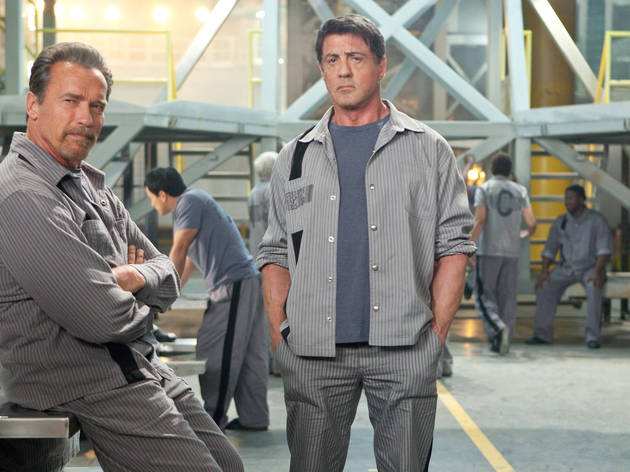 Ray Breslin (Sylvester Stallone) is the best there is at a job few would want: For a hefty fee, he'll take up residence in a maximum-security penitentiary and make certain it's escape-proof. His latest assignment, however, goes awry when a team member betrays him. Now he's stuck in a prison like no other, run by a creepily fey warden (Jim Caviezel). Breslin's only way to freedom is with the aid of the gruffly resourceful convict Emil Rottmayer (Arnold Schwarzenegger).
It's hard to believe that, beyond some Expendables series cameos, Stallone and Schwarzenegger have never teamed up onscreen before. Director Mikael Håfström doesn't treat them with the mythic reverence Michael Mann lavished on De Niro and Pacino in Heat, and Escape Plan benefits from the straightforward, workmanlike approach that makes it seem as if we're watching a lost relic from Sly and Arnie's heyday. (Aged faces aside, it feels like the duo could have shot this testosterone-fueled silliness during downtime on the Running Man and Over the Top sets.)
Stallone gets to show off his steroidal mettle, crushing enemies' bones with Dolby-accentuated crunch, while Schwarzenegger feigns craziness in his native German—a much more affecting display than the kiss-off lines ("You hit like a vegetarian") that land with a shticky thud. No new ground is broken, and viewers will, not unpleasantly, get everything they expect. It's apparently morning in America again.
Follow Keith Uhlich on Twitter: @keithuhlich
Release details
| | |
| --- | --- |
| Rated: | R |
| Release date: | Friday October 18 2013 |
| Duration: | 116 mins |
Cast and crew
Director:
Mikael Håfström
Screenwriter:
Miles Chapman, Jason Keller
Cast:
Arnold Schwarzenegger
Sylvester Stallone
Jim Caviezel